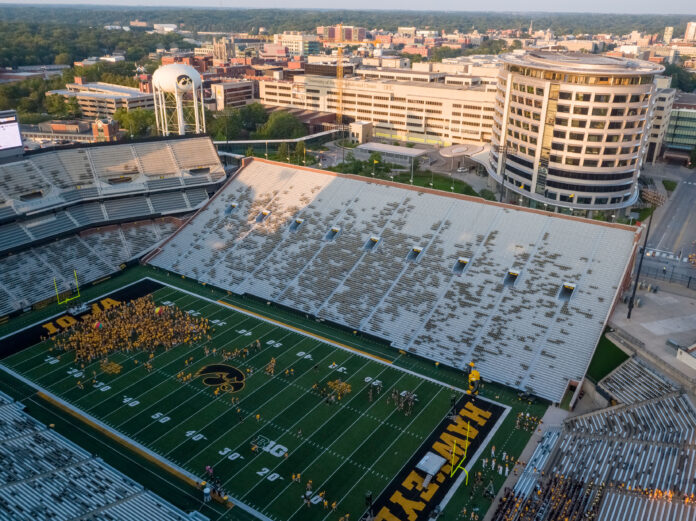 The Richard O. Jacobson Foundation has committed a $70 million gift to the University of Iowa to support a new patient care building for University of Iowa Hospitals & Clinics.
The new patient tower, pending approval by the Board of Regents, aims to expand UI Health Care service to Iowans and increase patient capacity while modernizing its care facilities, according to a release. It will be named in honor of Mr. Jacobson's legacy.
"We are proud to serve Iowa with our state's only comprehensive academic medical center, providing life-saving and life-changing care to people from across the state and beyond," said UI President Barbara Wilson in a statement. "Richard Jacobson's commitment to the UI was extraordinary, and this latest and very generous gift on his behalf will allow our exceptional health care team to deliver the highest level of care to all Iowans."
In January, the Iowa Board of Regents approved the University of Iowa's 10-year plan to construct three new buildings and revamp facilities.
The tower will include inpatient rooms, operating rooms and ICU beds to increase patient capacity issues and address aging facilities. It will be located on UI Health Care's main campus across from Kinnick Stadium.
"We are out of space," said UIHC CEO Suresh Gunasekaran in a news conference earlier this month. "I think we've been long out of space and there's been consistent media attention for the last decade on various different times that we've not been able to care for as many Iowans as we'd like simply because we don't have enough space."
Mr. Gunasekaran, set to leave the University of Iowa Hospitals & Clinics at the end of the month, stated UIHC has to turn away over 2,000 Iowans every year due to a lack of space.
"Over the next decade, Iowa will face a health care crisis related to an aging population with complex care needs," said UI Vice President for Medical Affairs Brooks Jackson in a statement Tuesday. "This new facility is an important piece of a larger plan to meet these needs, and this visionary gift will positively impact the lives of Iowans throughout the state for generations to come."
Mr. Jacobson has donated more than $86 million during his lifetime and through his foundation. His support spans many UI departments and projects including the Iowa Reading Research Center, the John Pappajohn Entrepreneurial Center and the Richard O. Jacobson Football Operations Building. The foundation has donated to Stead Family Children's Hospital and the UI Stead Family Department of Pediatrics, as well as to UI Health Care throughout the pandemic.
"Dick Jacobson is an extraordinary example of how Iowans give back to care for Iowans," said UI Center for Advancement President and CEO Lynette Marshall. "His passionate commitment to education and medical research is an inspiration, and we are thankful for his vision, which has continued to be carried out by his foundation."
The $70 million gift marks the largest donation in the 175-year history of the University of Iowa.
"University of Iowa Hospitals & Clinics has long been a beacon of hope for Iowans and others with serious health conditions," stated Governor Kim Reynolds. "This generous gift from the Richard O. Jacobson Foundation will not only expand access to world-class care in our state, it will further elevate UIHC's national reputation as a health care innovator and attract more medical professionals to fulfilling careers in Iowa."
Several Board of Regents members voiced their appreciation for the donation, stating the gift will be fundamental in completing the university's 10-year facilities plan.
"The generosity of this gift is extraordinary," said Michael J. Richards, president of the Board of Regents, State of Iowa. "UI Health Care must continue to prosper and grow, and this transformational funding gets the planning of the 10-year UI medical campus modernization off to a phenomenal start."