PRESENTS
Forty Under 40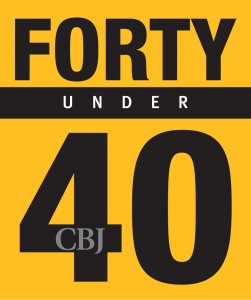 DoubleTree by Hilton
350 1st Ave NE
Cedar Rapids, IA 52401
The Forty Under 40 awards recognize 40 leaders under the age of 40 who have made a significant impact in their business and community early in their careers. The event also celebrates one previous Forty Under 40 recipient, or alumnus, for his or her continued professional success and impact on the community. Honorees are chosen by a panel of past recipients who weigh equally business success and civic/philanthropic activities.
FAQ
When and where is the Forty Under 40?
October 19, 2023 @ 5:30 pm - 8:30 pm
DoubleTree by Hilton
350 1st Ave NE
Cedar Rapids, IA 52401
What does the Forty Under 40 include?
Ability to engage with honorees and attendees during networking prior to and after the event.
Dinner.
How much are the tickets?
$70 for an individual ticket and $680 for a table of ten.
*Ticket sales close exactly one week prior to the event. No exceptions.
*All dietary restrictions must be submitted a week prior to the event. If you have any questions, please email keeley@corridorbusiness.com.
What is your refund & cancellation policy?
In cases of inclement weather, the Corridor Business Journal will assess the situation and will alert all attendees if the event will be postponed or canceled. Refunds will not be offered if the postponed event is held. In the unlikely event of a cancellation, they may be exchanged for a different event of the same value, free of charge, subject to availability.
I've purchased a ticket(s), do I receive a physical one?
No. There are no physical tickets. Attendees are asked to check-in at the registration table prior to the event.
How are winners selected?
A selection committee made up of past honorees determine recipients.
When will the winners be announced?
Winners will be announced ten weeks prior to the event on the Corridor Business Journal website and published in the paper.
What is the CBJ?
The Corridor Business Journal covers news that is of interest, use and importance for anyone who does business in the growing Cedar Rapids and Iowa City Corridor. CBJ is not part of a chain. The newspaper is owned and operated independently by John and Aspen Lohman.

A portion of each issue is dedicated to one sector of the business community. Among many other focus issues, these topics range from diversity to small business, to politics & elections and banking. We also publish a host of supplemental materials.
Where can I get more information?
For editorial information, contact the newsroom (news@corridorbusiness.com)
For subscription information, contact Jean Suckow (jean@corridorbusiness.com)
For advertising information, contact Kelly Miller (kelly@corridorbusiness.com) or Meribeth Schmidt (meribeth@corridorbusiness.com)
Have questions about sponsorship opportunities?
For sponsorship information, contact Lauren Fletcher at lauren@corridorbusiness.com.
Jim Atty | Mercy Medical Center
Mike Barkalow | City of Marion
Kelzye Bedwell | Horizons A Family Service Alliance
Anthony Betters | NewBoCo
Letia Blanco | Collins Aerospace
Chad Brakhahn | Simmons Perrine Moyer Bergman PLC
Aaron Brewer | Brucemore
Kristine Bullock | Kirkwood Community College
Hillary Chappo | University of Iowa Hospitals and Clinics
Melissa Doudna | United Way of East Central Iowa
Lindsey Dozier | Collins Community Credit Union
Paula Duve | On With Life
Kayla Fisher | Lepic-Kroeger REALTORS
Britta Grebner | F&M Bank
Scott Hawes | Iowa Valley Habitat for Humanity
John Heinemann | University of Iowa Hospitals & Clinics
Christopher Hunter | Iowa City Downtown District
Nate Jensema | Van Meter Inc.
Angie Jordan | Banjo Knits Empowerment LLC
Pankit Kotecha | Collins Aerospace
Nick Ludwig | Alliant Energy
Caleb Mason | City of Cedar Rapids
Samantha McGrane | Transamerica
Tara Minetos | US Bank
Candice Murphy | The Arc of East Central Iowa
Frederick Newell | Iowa City Community School District
Britt Nielsen | Linn County Government
Jennifer Null | Tanager Place
Anna Praegitzer | Strategic Print Solutions (SPS)
Joe Reilly | Iowa City Downtown District
Hannah Rigler | ChildServe
Alison Robinson | Kirkwood Community College Foundation
Zach Schmit | Covenant Workplace Solutions
Ryan Shenefelt | de Novo Marketing
Seth Staashelm | City of Marion
Matthew Stahl | Steel Therapeutics, Inc
Erin Sullivan | Shelter House
Bridget Toomey | University of Iowa Hospitals & Clinics
Gregory Usher | Nazette, Marner, Nathanson, Shea, LLP
Aaron Verhorevoort | Spotix Inc

2022 Alumnus of the Year:
Nicolas AbouAssaly, Marion's mayor and a partner at the Simmons Perrine Moyer Bergman law firm in Cedar Rapids (2005 Forty Under 40 Class)
Stay up-to-date with the CBJ events
Sign up for our newsletter now to receive special invites to CBJ events like the Women of Influence, the Healthcare Summit, Economic Forecast Luncheon and more.