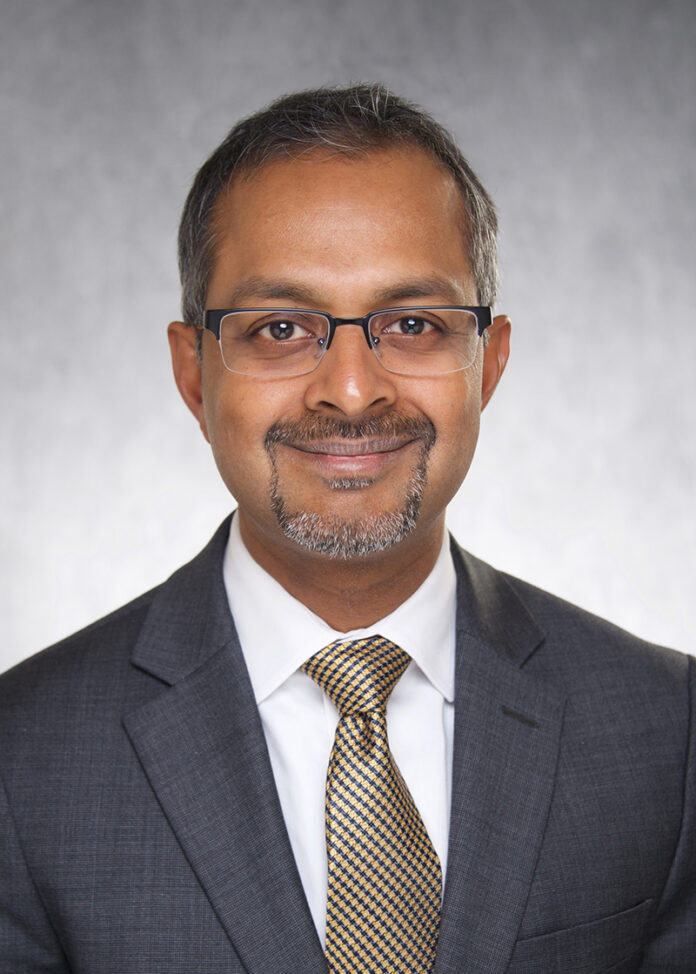 Suresh Gunasekaran, CEO of University of Iowa Hospitals & Clinics, is departing for the University of California San Francisco (UCSF) Health by the end of February. He will start as president and CEO for UCSF Health on March 1 after his appointment was formally approved by the California Board of Regents.
After joining UI Health Care in November 2018, Mr. Gunasekaran worked closely with UI Health Care leaders to push the organization's mission to expand its research, education and patient care reach. He is also credited in helping guide UI Health Care through the COVID-19 crisis.
"It's been an honor and a privilege to work at the University of Iowa which is a really collaborative, special place that is valued by the state and the community," he said during a news briefing Jan. 18. "I'm forever grateful I had the opportunity to be part of the University of Iowa Health Care."
"But most of all what I think is most difficult to give up is coming into work every day on Hawkins Drive," he said. "Twelve-thousand-people strong, we are supremely committed to the entire state of Iowa. We're committed to getting better, we're committed to doing the right thing. And those things came really easy at the University of Iowa Health Care."
During his tenure, he has advocated for a new $395 million hospital in North Liberty and most recently, a long-term plan for new facilities across the UI campus.
As CEO, Mr. Gunasekaran oversees the operational, strategic and financial performance for UI Hospitals & Clinics. The UIHC medical center serves more than one million patient visits each year.
"Clearly, I would not like him to leave, but I am very pleased for him at the same time," said UI Health Care Vice President for Medical Affairs Brooks Jackson. "It is a real opportunity, and just speaks well of how highly he has performed here."
"Ultimately, for me on a personal level, it was hard to resist the pull of UCSF," Mr. Gunasekaran explained. "I've lived out there before. I'm very knowledgeable on the community, and I think it's a great institution as well. I think that it isn't so much that there was something lacking here as much as the opportunity to have an impact there."
UCSF is ranked among the nation's top 10 academic medical centers in the nation. He told reporters on the call that he was recruited by UCSF Health in a national search and was contacted last year about the opening.
Under his new position, he will take charge of the UCSF Medical Center and an expanding network of affiliate relationships, according to a release from UCSF.
"Suresh brings an impressive track record of health care leadership marked by strategic vision and strong financial performance, in service of his commitment to putting patients first," said UCSF Chancellor Sam Hawgood, MBBS. "His longstanding dedication to health equity and compassion for the most vulnerable families in our communities, alongside his expertise in transforming health care operations, will guide UCSF Health well in the next stage of its growth."
"We have a truly unique opportunity to change the way care is delivered in the Bay Area and beyond by delivering the latest advances and supporting our people in delivering high-quality care," Mr. Gunasekaran said. "We will achieve this by working with our partners to deliver a system of care that meets patients where they are in a compassionate way. At the heart of this system will be an unwavering commitment to overcome systemic barriers to health equity."
UI Health Care will announce an interim CEO within the next week or two, according to Mr. Jackson. They will then conduct a national search to find a permanent replacement.