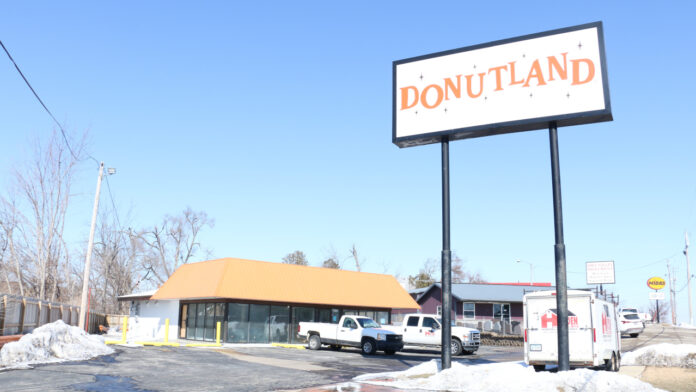 Donutland will be reopening its former orange-roofed location in southwest Cedar Rapids soon, and more new locations could be on the horizon.
A new sign is now in place to confirm what has long been rumored – the iconic donut restaurant is returning to 2606 Williams Blvd. SW, where Donutland operated for several years before closing in 2005.
Pam Bierl, a longtime employee at the Donutland at 4307 Center Point Rd. NE, which has been in continuous operation since 1971, said final renovations are being completed at the Williams Boulevard site, and that location should be open for business by late March or early April.
"It's been a long time coming," Ms. Bierl said. "Every day, people are calling."
The Williams Boulevard site has housed several businesses since Donutland closed, including a Cranky Hank's pizza restaurant, a Cassill Motors dealership and, most recently, a massage parlor.
Jeff Collins, who's owned Donutland since 2018, had been working to renovate and reopen the Williams Boulevard location for several months, but encountered several delays due to damage from the August 2020 derecho, COVID-19 business impacts and supply delays from tornadoes in Kentucky.
"It's taken longer than we had anticipated," she said, "but now it's around the corner."
The reopening may be the first step in a revival for the renowned Donutland franchise, which numbered more than 40 locations around the Midwest in its heyday, including a half dozen in the Corridor. Currently, in addition to the main Cedar Rapids store, Donutland products are offered at Lu's Deli in the NewBo neighborhood of Cedar Rapids, at the Uptown Coffee Company in Marion and Press Coffee Company in Coralville.
After relaunching the Williams Boulevard store, which could have longer hours of operation than the Center Point Road location, Mr. Collins hopes to open several more freestanding Donutland locations in the near future.
While specific plans aren't yet in place, "he (Mr. Collins) definitely wants to expand Donutland," Ms. Bierl said. "He sees the need for it."
For many local residents, Donutland has been an institution for several decades, and Ms. Bierl said she's happy to be part of its past success and potential future expansion.
"We're not in the medical field," she said, "but I think our food is essential right now."