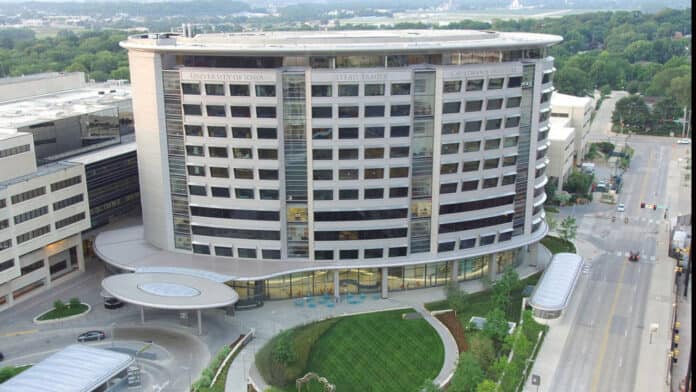 In consecutive unanimous decisions, the Iowa Board of Regents approved the University of Iowa's 10-year plan that will construct three new buildings and revamp facilities, and to complete a federally funded $9.2 million expansion of its State Hygienic Lab in Coralville.
The University of Iowa Hospitals & Clinics hope to construct a new hospital tower, a teaching and research building and an ambulatory care building. These long-term plans are supported by an array of shorter term projects that will enable further renovation and will keep UIHC functional in the years to come.
Currently, UIHC operates with 848 beds, already 80 beds shy of the amount needed to treat patients today. Without continued modernization, 44% of their hospital beds will be obsolete. The university projects they will need 400 additional beds to keep up with Iowans' health care needs, said University of Iowa Hospitals & Clinic CEO Suresh Gunasekaran. They hope to find partnerships with hospitals and healthcare providers across the state, saving the need to construct 200 beds.
"We look forward to partnering with the entire University of Iowa campus to make sure that we make these large investments in a way that does not disadvantage present operations or present ability to take care of patients," he said during the presentation. "The difficult part of the master plan was to figure out how do we accommodate this growth without closing down something for a couple of months or a couple of years while we're doing construction. We think that we've done enough planning that we can accommodate these three major projects over the next decade."
As part of the plan, UI will pursue purchasing the Old Capitol Town Center, the downtown Iowa City Mall during the 2024 to 2025 calendar year.
The University also asked for permission to modernize MacLean, Jessup and Macbride Hall, a portion of Hardin Library, renovate the Iowa Memorial Union and remove Halsey Hall.
Tippie College of Business will be pursuing donors to help expand the square footage the college covers in order to serve a department that has nearly doubled in size since 1993, according to Rod Lehnertz, senior vice president for finance and operations at the University of Iowa.
There will be athletics upgrades too, as UI will construct a $20 million wrestling facility, a new gymnastics facility and will modernize its baseball stadium.
While Wednesday's presentation in front of the board was merely an overview of projects to come, the approval greenlights and gives permission to the university to finalize proposal details and bring substantive plans to the table in the future.
The $9.2 million expansion of the State Hygienic Lab will construct a new level 3 biosafety lab by June 2023 to utilize the funding. The project will be an addition to the east end of the existing facility and will be entirely funded by the U.S. Center for Disease Control and Prevention if completed on time.