PRESENTS
Coolest Places to Work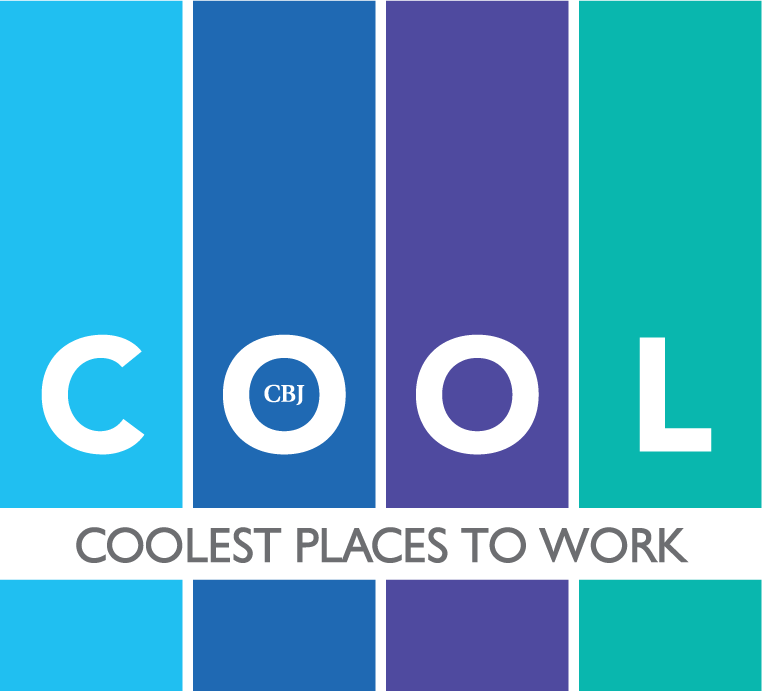 DoubleTree by Hilton
350 1st Ave NE
Cedar Rapids, IA 52401
Cost: Purchase before Nov. 16: $70 - $680, Nov. 16 or later: $80 - $800
Registration is CLOSED
Celebrating 10 years of honoring local companies creating the most engaging and rewarding work environments. Self-nominated companies in Kirkwood's seven-county region are selected based on a Worker Satisfaction Survey.

The following honorees are listed in alphabetical order; rankings will be announced at the event. The CEO from the No. 1 Coolest Place to Work will share his or her story.

CBJ's 2023 Coolest Places to Work
Advanced Therapy Specialists
Aerotek
Axiom Consultants
BGHN Associates, P.C.
Big Brothers Big Sisters of Cedar Rapids & East Central Iowa
Bosch Financial
Carson Wealth
ChildServe
Clickstop
CommUnity Crisis Services
Eastern Iowa Arts Academy
Graham Construction
Greater Iowa City, Inc.
Hibu
Infinity
McGrath Family of Dealerships
Northwestern Mutual Eastern Iowa
On With Life
Palmer Group
Ryan Companies US, Inc.
Skogman Companies
Theatre Cedar Rapids
TrueNorth Companies
Washington County Hospital and Clinics


Get Your Tickets to the Coolest Places to Work event
Cost: Purchase before Nov. 16: $70 - $680, Nov. 16 or later: $80 - $800
FAQ
When and where is the Coolest Places to Work?
November 30, 2023 @ 5:30 pm - 8:00 pm
DoubleTree by Hilton
350 1st Ave NE
Cedar Rapids, IA 52401
What does the Coolest Places to Work include?
Ability to engage with honorees and attendees during networking prior to and after the event.
Dinner.
How much are the tickets?
$70 for an individual ticket and $680 for a table of ten.
*Ticket sales close exactly one week prior to the event. No exceptions.
*All dietary restrictions must be submitted a week prior to the event. If you have any questions, please email lucas@corridorbusiness.com.
What is your refund & cancellation policy?
In cases of inclement weather, the Corridor Business Journal will assess the situation and will alert all attendees if the event will be postponed or canceled. Refunds will not be offered if the postponed event is held. In the unlikely event of a cancellation, they may be exchanged for a different event of the same value, free of charge, subject to availability.
I've purchased a ticket(s), do I receive a physical one?
No. There are no physical tickets. Attendees are asked to check-in at the registration table prior to the event.
How are winners selected?
An outside workforce research group will determine honorees. To learn more visit: https://www.coolestplacestoworkqc.com/how-it-works/our-process
When will the winners be announced?
Winners will be announced ten weeks prior to the event on the Corridor Business Journal website and published in the paper.
What is the CBJ?
The Corridor Business Journal covers news that is of interest, use and importance for anyone who does business in the growing Cedar Rapids and Iowa City Corridor. CBJ is not part of a chain. The newspaper is owned and operated independently by John and Aspen Lohman.

A portion of each issue is dedicated to one sector of the business community. Among many other focus issues, these topics range from diversity to small business, to politics & elections and banking. We also publish a host of supplemental materials.
Where can I get more information?
For editorial information, contact the newsroom (news@corridorbusiness.com)
For subscription information, contact Jean Suckow (jean@corridorbusiness.com)
For advertising information, contact Kelly Meyer (kelly@corridorbusiness.com) or Meribeth Schmidt (meribeth@corridorbusiness.com)
Have questions about sponsorship opportunities?
For sponsorship information, contact Lauren Fletcher at lauren@corridorbusiness.com.
Aerotek
Balanced Fitness & Health
Bosch Financial
Carson Wealth
Cedar Rapids Metro Economic Alliance
Clickstop
Dwell Home Furnishings & Interior Design
ESCO Group
F&M Bank
GEICO
Infinity
Meld Marketing
Miron Construction Co., Inc.
NewBoCo
Palmer Group
Pat McGrath Chevyland
Pinnacle Realty
Skogman Companies
Strategic Financial Solutions
Team Iowa Physical Therapy
The Eat Shop
Theatre Cedar Rapids
TrueNorth Companies
Urban Acres Real Estate

Click here to see past honorees (2013-2021)
Stay up-to-date with the CBJ events
Sign up for our newsletter now to receive special invites to CBJ events like the Women of Influence, the Healthcare Summit, Economic Forecast Luncheon and more.