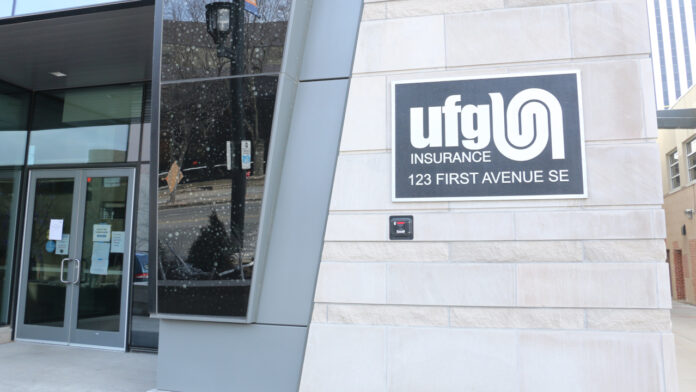 United Fire Group on Tuesday reported fourth-quarter adjusted earnings per share (EPS) of $1.69 on net quarterly earnings of $57.7 million.
The EPS figure topped market estimates of $0.33 per share by more than 412%. A year ago, the Cedar Rapids-based insurer posted a net loss of $8.9 million and an adjusted EPS loss of $1.30.
For the year ended Dec. 31, consolidated net income, including net investment gains, was $80.6 million ($3.16 per diluted share), compared to a net loss of $112.7 million ($4.50 per diluted share) for the same period in 2020.
United Fire CEO Randy Ramlo said he was pleased with the company's performance.
"The fourth quarter combined ratio at 83.1% is our lowest quarterly combined ratio in over 14 years, dating back to the second quarter of 2007," Mr. Ramlo said. "This is the third consecutive quarter we reported improvement in our core loss ratio. Our core loss ratio, which removes the impact of catastrophe losses and favorable prior year reserve development, improved 24.5 percentage points and 8.0 percentages points, respectively, in the fourth quarter and full year of 2021 as compared to the same periods of 2020."
The company saw its most significant loss ratio improvement in its commercial auto business, which improved 68.1% in the fourth quarter and 25.1% points for the full year of 2021 as compared to the same periods of 2020.
"The improvement in profitability in our commercial auto line of business was from a combination of a decrease in frequency and severity of losses and an increase in favorable prior accident year reserve development," Mr. Ramlo said.