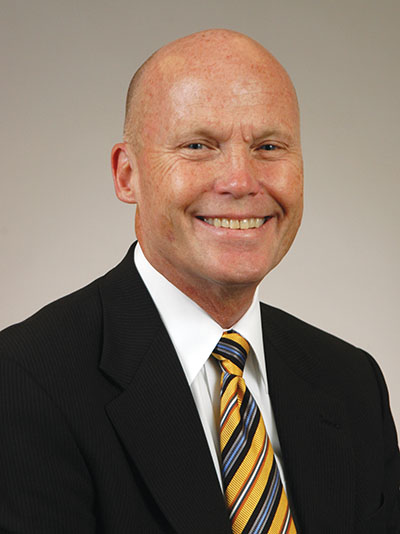 Senior Vice President, CFO
UnityPoint Health – St. Luke's Healthcare
Nonprofit
Nominated by Ted Townsend, UnityPoint Health – Cedar Rapids
The financial pressures and challenges within the health care field are changing almost as quickly as medicine itself, but Milton Aunan sees promise in the reforms ahead.
As the CFO and regional senior vice president for UnityPoint Health in Cedar Rapids, Mr. Aunan oversees a system of 23 primary and specialty care clinics, a 532-bed hospital and a foundation for fund development.
Before joining UnityPoint Health in 2009, Mr. Aunan spent more than 30 years with various nonprofits and health care organizations, where his efforts remain focused to date.
"That's really where I've done most of my work and it's really probably the area I enjoy most," he said.
Mr. Aunan has also served as a board member for Jane Boyd Youth Services, the YMCA of Cedar Rapids and the Child Evangelism Fellowship of Iowa.
"Milt is a dedicated community servant," Ted Townsend, UnityPoint Health –Cedar Rapids president and CEO, wrote in his nomination letter. "Milt demonstrates his commitment to the highest ethical and professional standards each day."
Mr. Townsend said that Mr. Aunan's commitment to staying current with GAAP accounting standards and health care policy developments underscore his dedication. As further proof of his intent to make the organization as efficient and effective as possible, Mr. Townsend cited a recent project under Mr. Aunan to make pricing easier for patients to understand.
"This is no simple task in our complex, highly regulated industry," Mr. Townsend noted.
Mr. Aunan said acquiring financing for his executive team at UnityPoint Health remains a top priority, as it allows them to achieve strategic goals which not only require capital, but also debt financing in order to access capital markets.
"It's an area of service to make sure the organization is staying financially strong and robust," he said. "Both of those go hand-in-glove. You can't get to the debt markets unless your organization is financially strong."
Achieving financial stability is possible in part thanks to the culture Mr. Aunan has helped establish at UnityPoint. Unlike other health care systems where Mr. Aunan has worked, UnityPoint Health strives to set a tone that's supportive of employees without depriving them of autonomy, he said.
"It's making sure that everyone that's on board understands our goals and objectives, and has that same desire for not just … high-quality health care, but really making sure that the patient and family experience inside the realm of health care is very positive," Mr. Aunan said.
Among the metrics the organization keeps a close eye on are patient satisfaction surveys, such as those issued by Press Ganey.
"If there's something that shows up in those surveys … we use it as a learning experience, and not a hammer," he said. "But we own it and use it as a group."
Mr. Aunan said high on the list of career accomplishments he's most proud of is his work securing funding for the Physicians' Clinic of Iowa Medical Pavilion, an approximately $44 million facility in Cedar Rapids that was completed in 2013.
"That was particularly rewarding to see that all come together," Mr. Aunan said.
Mr. Aunan said he's also been proud to serve as the system-wide co-chair for the UnityPoint System Sustainability initiative, which has the goal of increasing revenues and restructuring operating costs amid ongoing health care reforms.
Since the implementation of the Affordable Care Act in 2010, expanded Medicaid access has helped the hospital substantially reduce "bad debt" and charity care since more patients have coverage, Mr. Aunan said.
Changes under the ACA have also resulted in reimbursement reductions for health care providers, requiring Mr. Aunan and his team to be "smarter about how we deliver health care in the future."
"There's just going to be less dollars," he said. "There's no other way to put it."
As insurers and health care providers move toward more capitated payments as opposed to the fee-for-service model, many health care providers such as UnityPoint are also joining Accountable Care Organizations (ACOs) to realize additional savings.
"The incentives there are not to just keep yourself financially strong, but to figure out how to provide all those services that are coordinated," Mr. Aunan said.
– Chase Castle