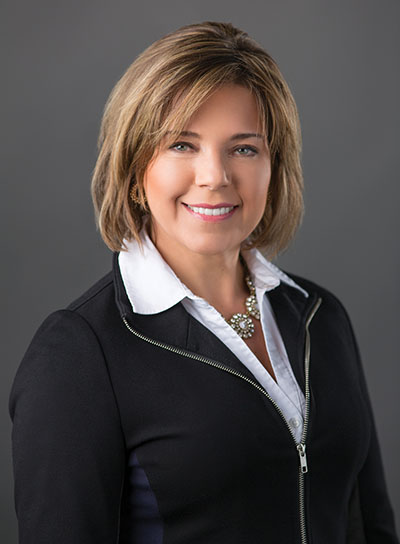 Budget Director, Linn County
Government/Education
Nominated by Linn County Board of Supervisors
As the manager of Linn County's $100 million annual budget, Dawn Jindrich's work touches virtually everybody in the second-largest county in Iowa.
"The thing I like about government is that I can do a really good job with a budget and it really helps a lot of people," said Ms. Jindrich, Linn County's budget director. "There's nobody I'm not affecting."
In its nomination letter for Financial Executive of the Year, the Linn County Board of Supervisors said Ms. Jindrich's greatest accomplishment has been the implementation of performance-based budgeting within the county.
"Dawn's leadership resulted in the board of supervisors approving and management agreeing to a budgeting system that measures efforts (inputs) and accomplishments (outcomes) with measurable outputs and efficiencies of every county department," the supervisors wrote.
Ms. Jindrich's focus on efficiency took shape as a financial analyst at Rockwell Collins, where she worked for eight years. While she enjoyed her time at the company, she "wasn't doing a lot of the CPA duties" that she learned while earning her accounting degree at the University of Iowa. That led her to accept the job as Linn County's first budget director in 1994.
The county previously had an employee who kept the books by hand, but didn't perform any specific budgeting or accounting duties.
"They didn't really have a budget office before I came," Ms. Jindrich said.
One of her first orders of business was to introduce a few of the emerging technologies of the mid-1990s. She recalled having to get a budget amendment to purchase the department's first computer.
With a qualified CPA in the position, the supervisors also wanted to go after the coveted Government Finance Officers Association's (GFOA) Distinguished Budget Presentation Award, which had never been won by Linn County.
"Our finance director wanted to get that done," Ms. Jindrich said of the award. "We wanted to be on the cutting edge."
Ms. Jindrich won the award for her first full budget in fiscal year 1997, and has won it every year since.
As a GFOA budget reviewer – a role in which she reviews budget documents from other jurisdictions in the United States to determine their eligibility for the award – she said she always keeps taxpayers in mind.
"I always ask, 'How does this impact the taxpayer?' Sometimes people lose sight of the taxpayers [when preparing a budget]," Ms. Jindrich said.
It is her responsibility, she said, to look at a levy and suggest if all of it is needed.
"We don't need to raise taxes every year," she said. "One of the targets is to maintain existing rates."
Linn County's county-wide levy is $6.14 per $1,000, the second lowest of large urban counties in Iowa, she noted.
"So far, we [Linn County] have always been able to stay in a good financial situation," she said.
According to her nominators, it was Ms. Jindrich's tight management of the budget that helped keep the county afloat after the devastating floods of 2008. Faced with more than $60 million in damages to county-owned infrastructure and property, downed financial systems and significant cash flow issues, they described Ms. Jindrich as "instrumental" in coordinating the receipt of over $15 million in short-term financing.
And while surviving the flood and its aftermath took a "certain amount of luck," according to Ms. Jindrich, her accounting acumen certainly didn't hurt. Under her watch, Linn County's financial position was "fully restored" two years after the flood, the supervisors wrote, all while maintaining its Aaa bond rating.
She runs counter to the perception of the introverted accountant, saying that she "needs to talk to people" – a trait that comes in handy as she works to juggle budget and financial issues among the county's 10 elected officials and more than 10 department heads.
"With her budget and financial expertise, Dawn continually resolves short-term budget issues, as well as forecasts Linn County's long-term needs," the supervisors wrote.
While she considers herself an "accounting geek," Ms. Jindrich said she does need to leave the ledgers behind once in a while. A favorite activity is working with horses with her family. She spends many weekends as an adult advisor with the Iowa Quarter Horse Youth Association.
"It gives me a reprieve from the office," she said.
– Angela Holmes