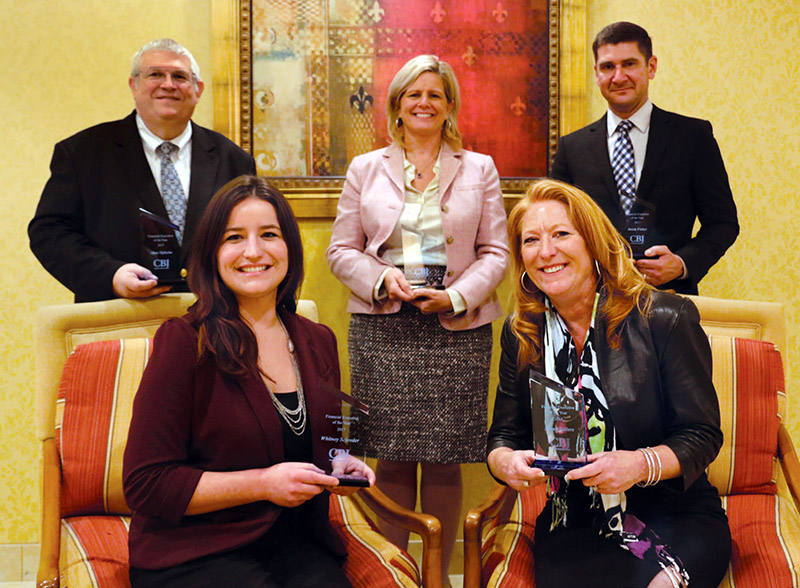 2017's Financial Executive of the Year honorees pose for a photo following the Nov. 15 awards ceremony in Cedar Rapids. Shown in front are Whitney Schreder (left) and Susan Sailors. In back are Alan Opheim, Stephanie Phelps and Jason Fisher. PHOTO ADAM MOORE
By Adam Moore & Katharine Carlon
news@corridorbusiness.com
They work mostly in the shadows, but the financial insight and analysis skills of 2017's Financial Executives of the Year have undoubtedly put their respective organizations in the spotlight.
This year's class of five profes­sionals, hailing from both private and public sectors, demonstrates that modern financial leaders are more than just budget hawks or numbers crunchers. Indeed, CFOs and controllers must now be fluent in all aspects of their organizations and the business world at large – whether in HR or sales or tech – to help their organizations grow.
"As financial executives, we wear many hats: trackers, reporters, enforcers, naviga­tors, fixers and financial fortune tellers," said Dawn Jaffray, senior vice president and CFO of UFG, who helped present the awards on Nov. 15 at the Cedar Rapids Marriott.
"We can be the McGyver of finding a way to get something done with limited resources. We can be the Captain Sully of landing our financials when unforeseen circumstances arise. We can be forensic superheroes like Ben Affleck in 'The Ac­countant,' ensuring that the rules and regulations are enforced in an attempt to bring order, fairness and accountability to the forefront."
Sometimes, like honoree Stephanie Phelps, senior vice president and CFO of Aegon Asset Management, financial exec­utives aren't just asked to wear a new hat; they're required to step into a new uni­form altogether.
"I was willing to pitch hit when our CEO left the company and we had some other turnover from management," she said in receiving her award. "The moral of the story is you really do have to step out­side of your box in order to grow."
Of course, managing those different roles involves a commitment to continual­ly learning and improving. Susan Sailors, CFO of Toyota of Iowa City, credited her staff with educating her about running a large car dealership and stressed the im­portance of learning from one another across departments to "right that stigma of the accounting department as the enemy."
Not a single honoree failed to share the credit with their team, which in many cas­es included spouses who take up the slack of family duties. Jason Fisher, of both the United Way and the Cedar Rapids Com­munity Schools Foundation, pointed to his father and his experience helping him run a soap manufacturing business as the foundation for his success.
"My Dad always made me do things the hard way," Mr. Fisher recalled. "I now understand that he taught me how to do things the right way."
Each honoree has earned the respect of his or her employer, which proves that all their behind-the-scenes work has not been overlooked – even if they aren't to­tally enthused at the prospect.
"I'm not sure about anybody else who was on this stage, but I do not like these kinds of moments," joked Whitney Schreder, controller of Ju­nior Achievement of Eastern Iowa, who nonetheless raved about her job, which offers new challenges daily. "Sunday, I was selling art up in Wa­terloo, yesterday we did special event ana­lytics and today I got to teach sixth-grad­ers at Prairie Creek the importance of insurance policies."
"We're no longer just counting the beans," agreed Alan Opheim, director of finance and operations for Regina Catholic Education Center. "We are called upon in all phases of our respective businesses to assist with brainstorming, decision making and flat-out work performance to the bet­terment of our organizations in whatever manner or function we're needed."
Read about this year's honorees on the pages that follow and discover how each has helped their organization shine.
The 2017 Financial Executive of the Year awards were presented by United Fire Group (UFG), with support from Marco, the University of Iowa Community Credit Union and The Overture Group.
2017's Financial Executives of the Year:
Jason Fisher
Alan Opheim
Stephanie Phelps
Susan Sailors
Whitney Schreder