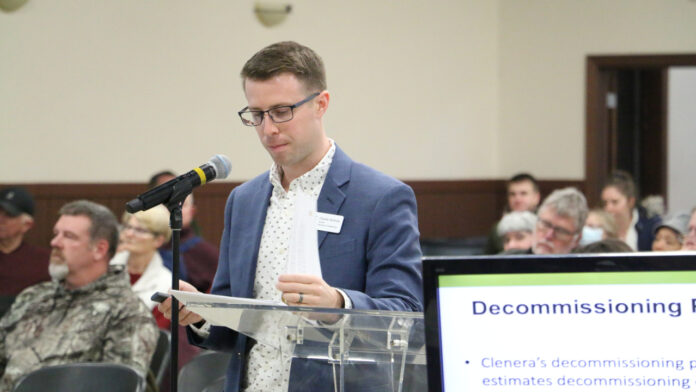 Industrial-scale solar energy production has officially arrived in Linn County.
Concluding a lengthy and often contentious process, the Linn County Board of Supervisors voted 2-1 Jan. 24 to approve the third and final reading of a rezoning request for a utility-scale solar project west of Coggon.
Supervisors Stacey Walker and Ben Rogers voted in favor of the rezoning, while supervisor Louie Zumbach voted to oppose the request.
The vote provided the final official approval needed for the $150 million, 750-acre Coggon Solar project to proceed. Officials from Boise, Idaho-based Clenera Energy, the company that will develop the 100-megawatt project, said after the meeting they're planning to begin installing the solar panels for the project this spring or summer on land leased from area landowners, and expect the project to be operational about a year thereafter.
The project, which will sell power to the Central Iowa Power Cooperative under a 20-year agreement, is expected to have a lifespan of about 35 years, after which the leased land could be returned to agricultural production. The project will also be built with local workers under a project labor agreement between Clenera and local union leaders.
The county's Planning and Zoning Commission voted 6-1 in late November to recommend denial of the rezoning request, and dozens of speakers had voiced both support and opposition for the project in a series of public meetings this month, on Jan. 10, Jan. 13 and Jan. 18.
Two conditions added to the rezoning request after the board's first meeting – one to add a 950-foot "soft" setback to the original 300-foot setback for non-participating property owners in the project area, the other to raise the minimum leading-edge panel height from 18 inches to 28 inches – were removed from the project requirements on 2-1 board votes.
Mr. Walker said he didn't feel it was the county's place to compel Clenera to negotiate with individual property owners on setbacks, and that a 1250-foot setback wasn't as germaine to a solar project as it would be for a confined animal feeding operation, or CAFO, where the state requires a larger setback for specific environmental and sensory reasons.
"The number proposed (for the solar project) does not match the data that's out there (on solar projects elsewhere)," he said, addressing Mr. Zumbach, who had initiated the added setback condition. "When you first proposed the condition, you took it because it was the setback for CAFO."
That comment that drew a sharp rebuke from Mr. Zumbach, who said his motivation was to protect property values and viewsheds of non-participating property owners in the project area.
"It's on the books in Iowa (for CAFO)," he said. "That's a lot better leg to stand on than to come out of nowhere."
Two other conditions were added on unanimous board votes – one to add a vegetative screening buffer within 1000 feet of occupied residents within the project boundary, planted at a height of eight feet and reaching a minimum height of 13 feet upon maturity, and another to remove salvage value from the estimated decommissioning cost of the project.
Another proposal introduced by Mr. Zumbach, that would have added protections for neighboring property owners if their property values decreased due to the solar installation's proximity, was denied on a 2-1 board vote.
Former state representative Swati Dandekar spoke to the board after their vote, thanking them on behalf of Bright Future Iowa, which gathered signatures from more than 4,000 Linn County residents supporting the solar initiative.
Jared McKee, vice president of development for Clenera, said he appreciated the way the process unfolded, even as residents voiced concerns about environmental impacts, the use of prime farmland, property values and a host of other issues.
"I think it's been a very heartfelt process for both ourselves and for a lot of community members here," Mr. McKee said, "and we are hopeful that this is the beginning of a 35-year relationship with those people that results in a mending of emotion and we get to a place of common ground."
Sara Ritchie Alden of Center Point, a member of Iowa for Responsible Solar, said she was disappointed with the board's decision, but that she plans to continue voicing concerns about industrial-scale solar projects.
"I think that this whole process has been done backwards, in the sense that if a developer is coming into our county to develop, shouldn't it be something that the county has involvement with in terms of where it's cited before contracts are signed?" she said. "Two of the supervisors have already said they don't live out in the country, they don't understand that way of life. They don't understand that their decision, and the impact it's going to have on residents, is devastating."
The project will mark the first industrial-scale solar installation in Linn County. Another proposal being developed by NextEra Energy would install a larger project on land surrounding the former Duane Arnold Energy Center near Palo, but that project hasn't yet been submitted to supervisors for formal consideration.