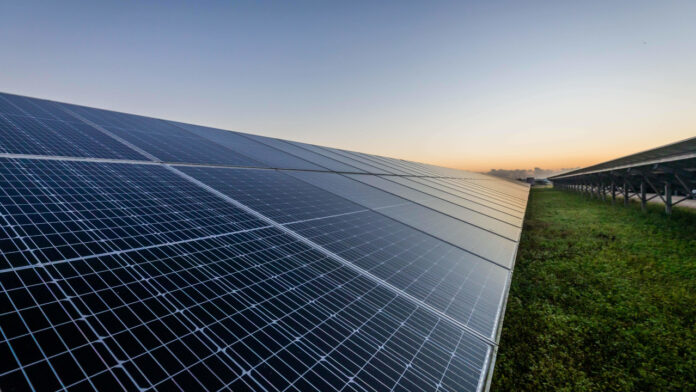 Alliant Energy announced this morning that it intends to acquire the first two phases of solar energy production, plus a battery storage component for generated power, from subsidiaries of NextEra Energy Resources, which is planning an industrial-scale solar installation at the site of the now-shuttered Duane Arnold Energy Center nuclear plant near Palo.
Under the plan, which was formalized this morning in a filing with the Iowa Utilities Board, Florida-based NextEra Energy – which had announced plans for the solar installation on the Duane Arnold site in March and dubbed the project Duane Arnold Solar, with an office already open in Palo – will develop and install 200 megawatts of solar generation and a 75-megawatt battery energy storage facility near the former nuclear plant, which is no longer in operation and is in the first phases of a 60-year decommissioning process.
Once the installation is complete, expected by the end of 2024, Alliant Energy would own and operate both the solar generation and battery storage projects. Alliant also plans to add another 200 megawatts of solar energy generation in the future, but officials declined Tuesday to provide specifics on those future generation plans, including whether those additional 200 megawatts would be generated at the Duane Arnold site or whether NextEra would be involved.
In a separate filing, NextEra is requesting permission from the IUB to site the new project.
Once the full 400 megawatts of solar energy generation are brought online, Alliant would become the largest combined solar and battery storage operator in the state of Iowa, company representatives said.
As proposed, the initial project will be completed in two phases, NextEra Energy Resources spokesperson Bryan Garner said. The first phase, comprising 50 megawatts of energy generation, would be completed in 2023, and the second phase, comprising the remaining 150 megawatts of energy generation and the 75-megawatt battery storage facility, would come online in 2024.
The project will also utilize the existing transmission infrastructure on the Duane Arnold site, officials said.
Terry Kouba, president of Interstate Power & Light, Alliant Energy's Iowa energy company, said in an interview with the Corridor Business Journal that the agreement with NextEra Energy represents a key component in Alliant's Clean Energy Blueprint, introduced last year. Among other things, the blueprint calls for Alliant to dramatically alter its power generation mix toward renewable energy sources.
Once the 400 megawatts of solar energy generation currently planned and the 1,300 megawatts of wind energy already in operation are combined, nearly 50 percent of Alliant Energy's energy generation will come from renewable sources, Mr. Kouba said. The balance will be generated by coal-fired and natural gas generation stations in Iowa and Wisconsin, but the blueprint calls for continued conversion of those legacy generation methods to renewable options.
Mr. Kouba said the blueprint was developed through discussions with "a number of key stakeholders that are generally interested in our plans for future generations" in order to "determine what's the best generation mix going into the future for our customers." He also outlined other key parts of the blueprint.
"We're going to add 100 megawatts of distributed energy resource throughout the state of Iowa in the coming years," he said. "We'll be retiring the Lansing coal-fired power plant at the end of 2022, and we'll be switching the Burlington generating station to natural gas. Through that model, we showed that this clean energy blueprint, compared to our previous plan, avoided about $300 million in expenses for our customers. Now we're into execution (of that blueprint)."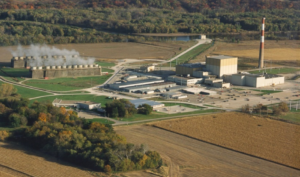 NextEra Energy has an extensive history in Linn County, having operated the Duane Arnold nuclear plant from 2006 until its shutdown in 2020, following extensive damage to the plant's cooling towers from the August 2020 derecho that proved an insurmountable obstacle to continued operation.
The company's original industrial-scale solar proposal, rolled out in March, comprised an estimated 3,500 acres on and near the Duane Arnold property, with a projected capital investment of $700 million.
NextEra representatives didn't indicate if that full project will still be pursued, but the plan encountered significant opposition from some community members from Palo, Center Point and other nearby communities, who said they were concerned about environmental impacts and the removal of farmland from agricultural production.
Ben Lipari, Alliant's director of resource director, said the company has kept tabs on the concerns being raised by local residents.
"These are issues that we're engaging (with) a number of other communities around the state as well, but I'm sure they feel very local," he said. "This is a unique opportunity for us to utilize a good portion of the footprint on property that really doesn't have repurposing capabilities at the nuclear property. Different than other projects that will (be) developed throughout the state, this, we believe, has less of an impact than a lot of those other projects.
"And these are landowners that are interested in production of solar," he added. "They're seeing the transition, and they also realize that there is a life to these projects. And after that life, there's a chance to continue production of that land for crops. You would see revitalized soils. There's a lot of other very local environmental benefits to no longer having some of the volume of runoff that can come with having these large volumes of land farmed over and over again. Those are some of the elements that we'll be bringing to the discussion there locally. … The reality is that there have not been large-scale solar developments in Iowa up until this point, so we'll all take this journey together."
The proposed project would also have a significant economic impact on the area, according to NextEra spokesperson Conlan Kennedy. A study conducted by Strategic Economic Research projected the two projects would provide a combined positive economic output of up to $260 million on the state of Iowa, including up to $154 million in Linn County, over the projected life of the projects – 30 projected years for the solar installations and 20 years for the battery storage component – including up to 200 new jobs, wages, tax revenue and other economic activity during construction and throughout the project's lifespan.
Mr. Kennedy also noted that there will be numerous opportunities for public input on the proposal, via public hearings conducted by both the Iowa Utilities Board, responsible for the overall project's approval, and the Linn County Board of Supervisors, which would approve required zoning changes.
"There will be ample opportunities for folks to share their input, and we welcome that," Mr. Garner added. "We think the more input we take on a project like this, the better the project will be for the community. So we're open to that input. We know there's questions out there, but I think when people see the value a project like this will bring to the community, not only in terms of clean, affordable energy, but also economic impact, there's a lot to celebrate in a project like this."
Representatives of both Alliant and NextEra said they hoped to have decisions on their respective filings with the IUB by mid-to-late 2022, and NextEra officials said they hope to have a project application filed with Linn County by the end of this year.