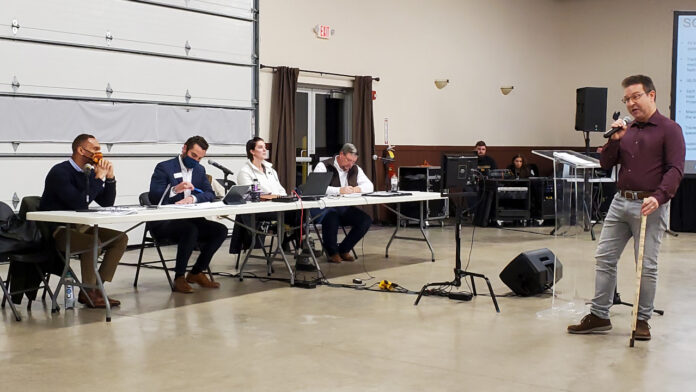 It appears it will take more than three readings for the Linn County Board of Supervisors to make a final decision on a heavily-debated rezoning proposal for an industrial-scale solar project west of Coggon.
At the end of a six-hour session Thursday night at the Linn County Fairgrounds in Central City, supervisors voted unanimously to advance the proposal from Clenera Energy for a 750-acre, 100-megawatt solar project near Coggon to a third reading, now set for Tuesday night.
However, the inclusion of two conditions to the original rezoning request – a 950-foot "soft," or negotiable, setback from the project for non-participating homeowners' occupied dwellings, on top of the 300-foot setback already required for all homes in the project area; and an increase in above-ground height from 18 to 28 inches for the leading edge of the solar panels themselves – provided many of the meeting's more hearted moments.
Both conditions had been included in the board's approval of the first reading of the rezoning ordinance Monday night, but at that meeting, supervisor Stacey Walker voted against the amended ordinance, noting Clenera officials hadn't had a chance to respond to the changes and how they might impact development plans.
Clenera representatives had their chance to respond to the changes Thursday night, and they didn't hold back, indicating that including either condition could jeopardize the viability of the entire Coggon project.
"The 1250-foot foot setback does not work with the current layout without requiring the project to secure more land," said Tom Fitzgerald, director of project development for Idaho-based Clenera Energy. "We're concerned about the pragmatic fact that we're going to have to get almost twice as much farm ground in order to accommodate a project of this size if you impose this."
Mr. Fitzgerald also addressed the added condition of a 28-inch minimum panel height, imposed as the result of a recommendation from Linn County resource conservationist Jon Gallagher based on possible conflicts with recommended vegetative plantings in the project site.
"Clenera strongly feels that this 28-inch panel height requirement is not grounded in fact, or really any scientific basis whatsoever," Mr. Fitzgerald said, noting that the additional height requirement could add millions of dollars of extra expense to the $150 million project.
"That could be the difference of whether or not this project gets built in this county or gets built someplace else," he noted.
Mr. Gallagher responded that his recommendation was based on extensive research with agronomists nationwide regarding soil health and appropriate vegetation.
"We're talking 18 inches right here," he said, demonstrating on a grazing stick, a tool used by grazing managers to estimate available standing dry matter. "And somehow, a 28-inch ask is cost-prohibitive and cannot be done."
After extensive discussion and input from more than 40 speakers in the public session, both in support and opposition to the project, supervisors directed Clenera representatives to investigate the new conditions and determine if possible compromises could be reached. However, they signaled that the third reading of the zoning ordinance, slated for Tuesday night, likely doesn't provide enough time for Clenera to fully evaluate the impacts to their proposal, and that a fourth consideration of the rezoning request would likely be needed.
That fourth consideration could be set at Tuesday night's meeting, which begins at 6 p.m. at the Linn County Fairgrounds.