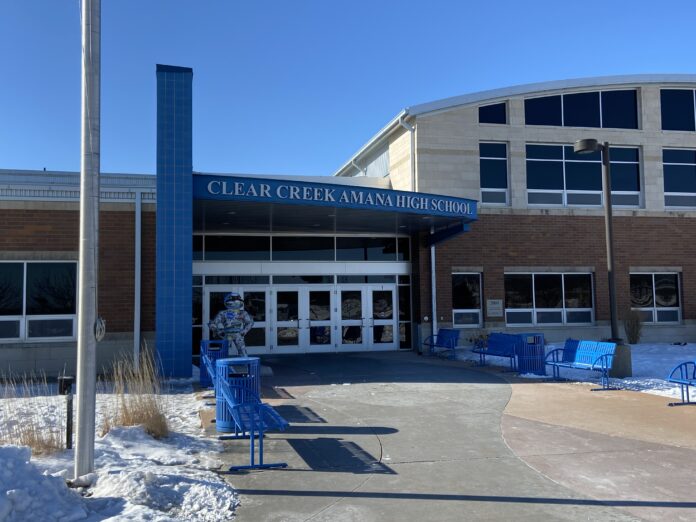 Clear Creek Amana Community School District voters will have the opportunity to voice their approval for the construction of a new elementary school in Coralville, provided they are in favor of passing a $65 million bond during a special election in March.
The plan details building a two-story school for approximately 600 students in preschool through grade five with $42.5 million in funds. A new elementary school would sit on a 30-acre lot north of Costco, near the site of future housing developments.
It takes 60% approval to pass a school district bond in the state of Iowa.
Joseph Brown, the school district's interim superintendent, provided an update on the the proposal during a Joint Entities meeting on Monday. Joint Entities meetings bring together mayors and city council members from neighboring communities to discuss issues affecting their constituents.
"The idea is that this would be built in Coralville because that's where we're seeing a lot of the growth of new housing," said Mr. Brown. "Right now, Clear Creek Amana is observing growth of 150 to 200 additional students every year. The growth is really coming from three towns: Tiffin, North Liberty and Coralville."
A 10-year projection shows that the school district expects to serve an additional 1,674 students and each grade level will have an estimated 300 to 350 students.
An additional $21.1 million would be spent on creating a vocational center to attach to the high school that will expand the fine arts facilities for band and choir. The remaining $1.4 million is dedicated to improving the playgrounds at the elementary schools.
"Every place in this country we need to replace skilled workers because the baby boomer generation is retiring at a very rapid clip," he said. "We want to make sure that, in addition to our fine arts programs or athletic programs…that we also have vocational programs for our students to take advantage of. Right now, we only have one small woodshop that's located in the middle school."
This new vocational center would allow for an expanded woodshop, welding academy and some other machine vocational programs.
There are 20 town meetings scheduled in various cities in the leadup to the March vote. If approved, they will have two and a half years to complete the new school, said Mr. Brown. By then, they expect to be "totally out of space" under their current arrangement.
The total tax levy rate will not be increased for the projects, according to KGAN.