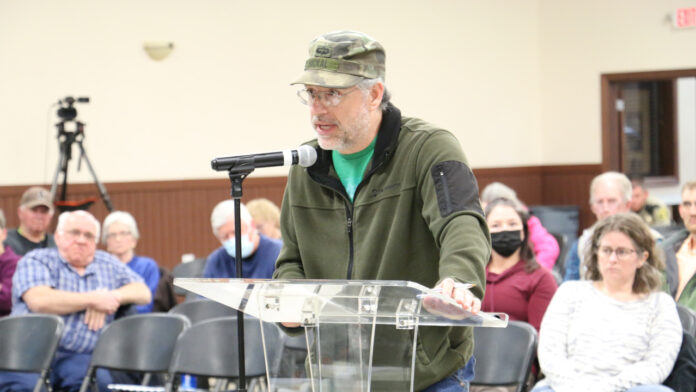 Just before the Linn County Board of Supervisors voted Tuesday night to postpone the final reading of a rezoning ordinance for a proposed industrial-scale solar project west of Coggon, board chair Ben Rogers acknowledged the issue has been among the most challenging of his board tenure.
"I appreciate the public's patience and endurance while we've gone through these discussions," Mr. Rogers said. "I've been on this board for a while [since 2008]. I'm certainly from this area. And this has been one of the more consequential, complicated, impactful projects to ever come before the board. The reason why we're taking our time, and it may seem complicated, is because it is. There's a lot to consider. This impacts people's viewshed, it impacts climate change, it impacts economic development, it impacts tax valuations, properties. I won't feel bad at the end of this that we spent considerable time and resources, listening, vetting ideas and ensuring that we do this right. We owe it to landowners who signed a contract. We owe it to the landowners who are adjacent to those who are participating.
"We've got to get this right for the applicant, for our staff and future projects, because this will be what the model is," he added. "I do appreciate the public's willingness to hear us trying to figure this out. It is complicated. It comes after long, long days and a lot of passionate public comments."
The board will meet for the fourth time Monday to consider the proposal submitted by Idaho-based Clenera Energy to build a $150 million, 100-megawatt solar energy facility on 750 privately-owned acres west of Coggon.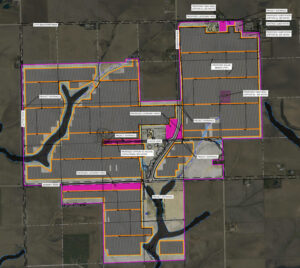 The project would generate enough power for 18,000 homes, Clenera officials say, and would be distributed via a power purchase agreement with the Central Iowa Power Cooperative to local and regional co-op customers in Iowa. Developers say the project would offset 300 million pounds of carbon emissions over its 35-year lifespan.
A few key items were heavily debated again in Tuesday night's meeting, including a pair of conditions added by the board in the ordinance's second reading, based on recommendations from Sopervisor Louie Zumbach – a 1250-foot setback from occupied structures owned by non-participating residents in the project area, increased from 300 feet in the project's original plans, and a minimum above-ground panel height of 28 inches to accommodate vegetative growth on the project site, up from 18 inches in the original proposal.
Clenera representatives had previously signaled that either condition could jeopardize the viability of the project, and in Tuesday night's meeting, supervisors indicated the 1250-foot setback may well not be included in final project requirements. The fate of the 28-inch panel height was unclear after Tuesday night's meeting.
Supervisor Stacey Walker said he felt it "should not be the business of government to serve as a leveraging tool for residents with a private business" regarding discussions on setbacks or other considerations.
"Given that we have had lengthy discussions on this, I'm not a fan of dragging this out any longer than it needs to be," Mr. Walker said. "I think a lot of the concerns that the board has brought up, whether with panel height or setbacks or decommissioning, have been addressed thoughtfully … I think this board is never going to get to a place where every interest group feels 100% good about an outcome. So I just caution this board from falling into a cycle that could go on and on ad infinitum. We have set up criteria which industrial scale solar projects are to meet. They have met the criteria, and we have a recommendation before us from our Planning and Development Office to move forward. I just want us to be careful, because I imagine concerned residents and applicants alike are ready for this to be resolved."
Jared McKee, vice president of business development for Clenera, agreed and said he hoped the board could make a decision soon on the company's rezoning application and set aside the county's proposed conditions, and that while Clenera would continue to have negotiations with neighboring landowners, those negotiations are separate from the board's consideration of the application.
"Whatever consideration is put into this project, there comes a time when the revenues cannot support the cost," he said. "There is a fixed income. We do not want to delay. We would like to move forward. The criteria with which you are making a decision is based on the application. That's what we have to be looking at, and that's what the decision is based on … his has been a eight-month process, and I don't see any new information coming in to the board. We feel like there's no time to wait, and the decision can be made."
Mr. Zumbach took issue with Mr. McKee's negotiation claims.
"I don't see anything that you're going to continue to negotiate at that point, once we make this decision," Mr. Zumbach said. "I applaud you for trying to go forward like that, but we both know that's not going to happen."
Two other issues generated significant debate Tuesday night.
One was the cost of decommissioning the project at the end of its projected 35-year life, and whether those costs have been adequately addressed in the Clenera proposal. Supervisors have already indicated they'll require a $1 million bond to cover the costs, but critics say other financial assurances are needed to guarantee that any decommissioning costs won't be borne by county taxpayers.
The other was the project's impact on property values for neighboring landowners, with public speakers presenting a number of reports indicating the project could devalue neighboring properties by 10 percent or more, depending on proximity. Other reports, however, indicate that property values could be only minimally affected.
Monday's meeting will begin at 6 p.m. at the Linn County Fairgrounds in Central City. If approved, Clenera officials say the project could begin construction this spring and be in operation by the end of 2022.