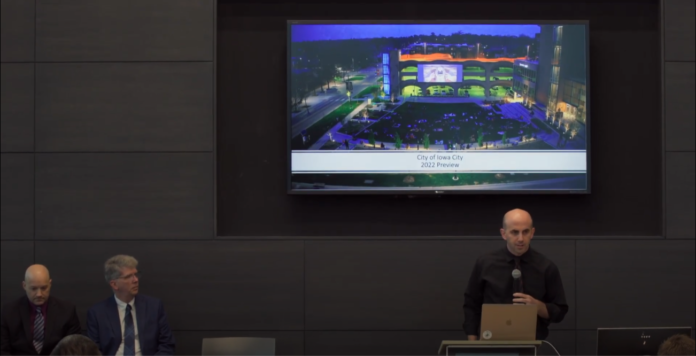 City officials from Iowa City, Coralville, North Liberty, Tiffin and Solon met Feb. 17 to highlight 2022 development projects that will shape the Corridor for years to come.
The meeting, hosted by the Iowa City Area Development Group at the Kirkwood Regional Center, had business representatives and investors in attendance to listen to how new plans and proposals could impact their business.
Representatives from MidAmerican Energy and the University of Iowa also presented their plans for the upcoming year. MidAmerican Energy touted their $3.9 billion Wind PRIME renewable energy project, while the University of Iowa spent much of its allotted segment going over their 10-year facilities plan.
Iowa City
After noting that Iowa City's population has grown by at least 7,000, according to the 2020 census, Iowa City city manager Geoff Fruin spoke about the city's numerous housing developments.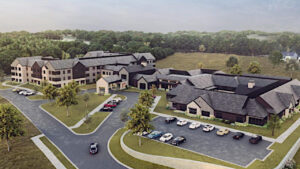 For older residents, the Hickory Hill Estates plan is set to add a nearly 70,000-square foot senior living facility holding up to 134 beds.
In fall 2023, Iowa City will also welcome The James On Melrose. These luxury apartment rentals are geared toward adults looking to step away from home or condo ownership responsibilities, according to their website
Both projects are pending approval of final review stages and should begin construction this year.
Student housing is also "back on the agenda," Mr. Fruin.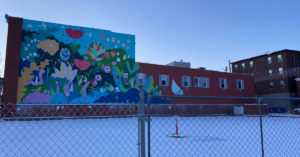 CA Ventures will try once again to build a 13-story mixed-use building at the site of the former U.S. Bank drive-through. If approved, the project will feature 228 dwelling units and 255 bedrooms.
Another 200 units of student housing could come to the Riverfront Crossings District, via Gilbane Company. A separate project by 908 Group would add 381 beds.
Johnson County
A 13-story building with affordable housing, a day care and offices will be built on 821 S. Clinton Street after the county purchased the property, said Johnson County special projects manager Ray Forsythe.
$4.5 million in American Rescue Plan Act (ARPA) funding will go toward the project.
More than $29 million in ARPA funds is allocated in the Johnson County budget, with over half the funding to address negative economic impacts and services to disproportionately impacted communities. 29% of the funds will tackle public health and infrastructure.
The county also hopes to invest $3.4 million in Kent Park lake restoration for improved water quality, as well as wrapping up a conceptual design for a $7 million renovation of the Johnson County Courthouse. They are also looking into the possibility of building a commercial kitchen and creating an ADA-compliant wellness trail for tenants at the Johnson County Historic Poor Farm.
Tiffin
The city of Tiffin is in the midst of the second phase of the town urbanization project, said city administrator Doug Boldt. This project is designed to update facilities and improve infrastructure.
The third and final phase in the project will continue into next year.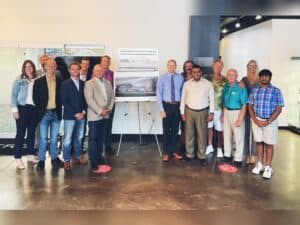 Perhaps most noteworthy is that Toptracer, a subsidiary of Top Golf, is coming to Tiffin as part of the Park Place project. Toptracer will have 52 covered and heated bays connected to a nearly 40,000 square-foot full-service bar.
Park Place will stretch more than 450 acres alongside Interstate 380 and will house more than 100 single-family lots, a Farmer's State Bank of Marion branch location, Veritas Church of Iowa City, a gym and restaurants, according to their website. It is a $275 million project.
Long-term, the city is aiming to build a recreation center, but that project is on hold, said Mr. Boldt.
Other projects
The first of three ELEVATE condo buildings is coming to Coralville this year.
In conjunction with the Department of Transportation, plans for a $40 million project to improve the Interstate 80 and First Avenue interchange in Coralville will continue to be developed. The first bridge will be torn down this fall and could cause congestion, according to city administrator Kelly Hayworth.
The City of Coralville is awaiting the results of a $65 million bond vote on March 1 to determine if the Clear Creek Amana School District is able to build a new elementary school. If passed, the school would open by 2024.
Solon Mayor and City Administrator Cami Rasmussen mentioned the progress Solon has made in the last decade on its main street, with new restaurants such as the Eat Shop, Red Vespa, Brass Fountain and the soon-to-open Bluebird Café.
North Liberty is planning a $10 million project to construct a new city hall beginning in October 2023. The space will have an events plaza, said City Manager Ryan Heiar. In January, the North Liberty City Council approved a 20,910-square-foot microbrewery, restaurant and entertainment facility.