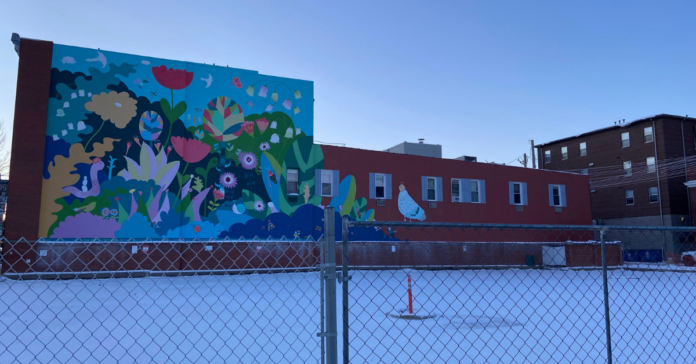 FEB. 28: The proposed 13-story high-rise at 21 S. Linn St. in Iowa City has hit yet another roadblock.
Iowa City staff members rejected the site plan review for the project backed by CA Ventures on Feb. 22 after "staff had objections because the plans did not meet all code requirements," said Anne Russett, senior planner for Iowa City, in an email to the CBJ.
CA Ventures now has the opportunity to review the staff comments before submitting a revised site plan.
Ms. Russett noted that it's common for site plans to go through several rounds of review before approval.
The previous review was set to be completed by March 2, and while online public records show another site plan review will take place, there is no corresponding deadline for the next review at this time.
The failed site review is the latest hurdle Chicago-based CA Ventures will have to clear after getting their initial proposal rejected by the Iowa Board of Adjustment in August.
—
An undeveloped lot at the site of the former US Bank drive-thru on 21 S. Linn St. in Iowa City has finally had a new proposal submitted.
CA Ventures, a Chicago-based developer that also owns RISE at 435 S. Linn St. and LATITUDE at Iowa River Landing, submitted a plan on Feb. 9 to build a mixed-use, 13-story high-rise. The building would include 2,511 square feet for commercial space, 228 dwelling units and 255 bedrooms, according to Iowa City public records.
The first proposal by CA Ventures Vice President Andrew Savoy was rejected by the Iowa City Board of Adjustment on a 3-2 vote in August. A level of mystery has surrounded the lot since the decision, after there were no further permit applications filed to the city in the aftermath of the ruling.
Although the public records available now lack detailed information, the new proposal looks similar to the previous plan at first glance. It appears the new proposal accounts for one less dwelling unit than the first proposal, as reported by the Iowa City Press-Citizen last year.
Public records indicate that the site plan should be fully reviewed by March 2. Next steps could include additional fees and an approval letter.
An email from Anne Russett, an Iowa City planner, to the developers stated that more information may be required for an "adequate review" to take place.
CA Ventures would likely need to present before the Board of Adjustment if the structure requires a special exception, as their previous plan required last year.