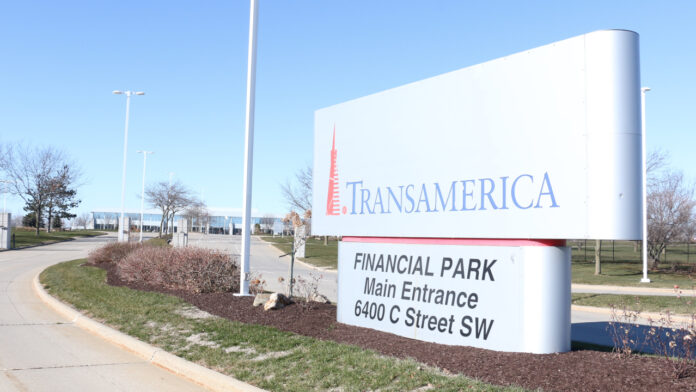 Transamerica Life Insurance is laying off 40 employees in Iowa, according to a Worker Adjustment and Retraining Notification Act (WARN) filing on June 17.
The announced layoff date is August 15.
53 jobs were also cut November 2020, raising the current number of Transamerica employees affected by WARN Act filings to 93 in the last several years. WARN filings do not account for outsourced jobs.
A Transamerica spokesperson said the decision allows the company to be "more efficient and competitive in delivering its solutions to customers."
"Two of these positions are roles located at our C Street campus in Cedar Rapids, where Transamerica employs approximately 925 employees," said Director of Communications Julie Quinlan by email on Tuesday. "The remaining 38 positions are held by remote workers located within the state of Iowa."
Transamerica will offer separation benefits for eligible employees, including outplacement services, according to the statement.
The former Transamerica site is now going through an auction process. The 51-acre site at 4415 N. River Blvd. NE, northwest of the intersection of Edgewood Road and 42nd Street NE, was largely vacated when Transamerica moved its Cedar Rapids operations to the former Hibu site in southwest Cedar Rapids, a process that began in 2016 and continued gradually for several years thereafter.
WARN offers protection to workers that are affected by plant closings or mass layoffs. Employers must give 60 days advance notice to affected workers or their labor union, the State Dislocated Worker Unit and local government.
In May, Toyota filed a WARN notice with Iowa Workforce Development stating they are to eliminate 322 positions in Cedar Rapids. The company announced in March they were to close its Cedar Rapids location.
Transamerica has offices in Cedar Rapids and is a subsidiary of AEGON, a financial services corporation out of the Netherlands.
Other filings:
Protek Medical Products, a manufacturer of probe covers and needle guides, laid off 53 employees in Iowa City earlier this year.
In its latest round of cutbacks, Duane Arnold Energy Center in Palo is eliminating 25 more positions, set to take effect September 16. In May, 61 workers lost their jobs.
Updated June 22