NextEra Energy Resources will be cutting another 61 workers in May at the Duane Arnold Energy Center in Palo, according to a notice filed this month under the state's Worker Adjustment and Retraining Notification (WARN) Act.
The employees will be let go May 13, according to the WARN notice.
The move follows NextEra's decision to shut down the DAEC, Iowa's only nuclear power plant, due to a variety of largely economic factors, including the growth of renewable energy production and the tax incentives available for such projects.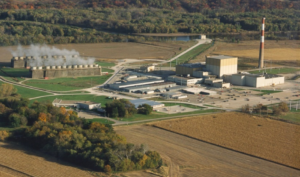 The shutdown was set to occur in October 2020, but the power plant sustained significant damage in the August 2020 derecho and never returned to production. The plant is now in the midst of a 60-year decommissioning process that's expected to be concluded by 2080.
At its peak, the DAEC employed an estimated 550 workers. Several workforce cutbacks have already taken place, including the elimination of 128 positions in late 2020 and another 47 positions in June 2021. Further reductions are anticipated over the next few years until the plant reaches a long-term workforce of about 50 employees, NextEra officials say.
A new future for the DAEC property and surrounding areas has already been proposed. In February, NextEra filed project permit applications with Linn County for the first two phases of a utility-scale solar generation project dubbed Duane Arnold Solar.
Under the plan, formalized in November 2021 in a filing with the Iowa Utilities Board, Florida-based NextEra – which announced plans for the solar installation on the Duane Arnold site in March 2021 – hopes to develop and install 200 megawatts of solar generation and a 75-megawatt battery energy storage facility near the former nuclear plant.
The project is being proposed in two phases. The first phase, dubbed Duane Arnold Solar I, would produce 50 megawatts of energy generation. Construction would begin in early 2023 and be completed by the end of 2023. The second phase, Duane Arnold Solar II, would include another 150 megawatts of energy generation and a 75-megawatt battery storage facility, with completion slated for the end of 2024.
The project will be considered for approval by Linn County officials, including reviews by the county's Technical Review Committee and Planning and Zoning Commission. The Linn County Board of Supervisors would then need to approve the project in three separate public hearings before the project could proceed.
County officials haven't yet announced a formal timeline for reviewing the project.