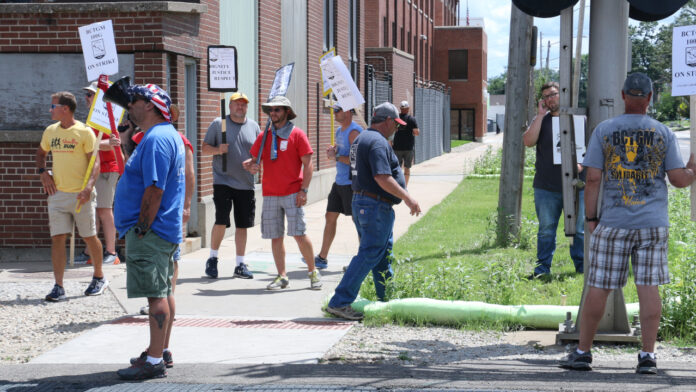 Members of the Bakery, Confectionery, Tobacco Workers and Grain Millers (BCTGM) International union in a protracted strike against Ingredion in Cedar Rapids will picket outside the company's global headquarters in Westchester, Illinois Thursday, Oct. 6 and deliver a list of demands to company management, according to a news release issued by BCTGM.
The union picket against Ingredion in Illinois is set to begin at 10 a.m.
BCTGM workers' strike against Ingredion began Aug. 1 after union members voted unanimously to reject Ingredion's "last, best and final offer" to resolve a series of issues that had prevented a new contract from being approved.
Those issues include a "two-tier" wage system that offers different pay structures for longtime workers and those hired since the company's last contract with the union was approved, as well as reductions in vacation time and pay, diminished seniority rights, changes in health care coverage policies, and a push to reduce workforce by outsourcing Ingredion's Cedar Rapids laboratory department.
BCTGM officials say Ingredion has repeatedly asked for concessions in contract negotiations, and little progress has been made between the two sides to resolve the strike despite numerous meetings, leading to Thursday's union picket in Illinois.
"The company is attempting to gut the contract, plain and simple. And that's even before we get to economics," said BCTGM Local 100-G President Michael Moore. "The proposals the company has put forward have been downright insulting. When we took a vote on their last, best, final offer, it received zero votes for ratification. Asking (workers) to take pay cuts and give up vacation days shows total disrespect for our members. Since they obviously aren't listening and are actively escalating the situation with their bargaining tactics in Iowa, we're taking our demands straight to the company's front door in suburban Chicago."
Last month, a scheduled two-day meeting Sept. 20-21 between representatives of the union and Ingredion at the Kirkwood Community College Conference Center was abruptly called off after Ingredion brought several armed security guards to the facility.
Kirkwood representatives ultimately revoked the college's decision to provide conference rooms for the negotiations, after having hosted previous talks between the two sides.
In a statement after the incident, Ingredion representative Becca Hary said the company brought the security guards to the meeting because of safety concerns.
More recently, union leaders held a rally outside the Ingredion plant Sept. 30 and marched to the nearby Jean Oxley Public Service Center, citing growing material handling and safety concerns regarding replacement workers at the plant.