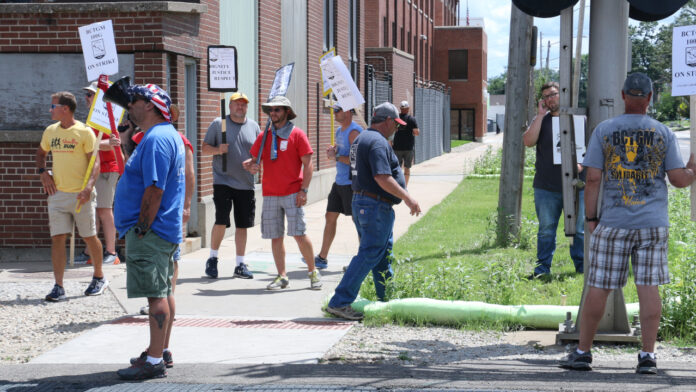 As a strike between Ingredion and its unionized plant employees in Cedar Rapids nears the end of its second month – and in the wake of canceled negotiations between the two sides at Kirkwood Community College last week – representatives from both sides say there are no negotiation talks currently scheduled to bring the strike to a close.
The strike began Aug. 1 after union members voted unanimously to reject Ingredion's "last, best and final offer" to resolve a series of issues that had prevented a new contract from being approved.
Jason Davis, a regional representative for the for the Bakery, Confectionery, Tobacco Workers and Grain Millers (BCTGM) union, said a scheduled two-day meeting Sept. 20-21 between representatives of Ingredion BCTGM's Local 100-G union and Ingredion at the Kirkwood Community College Conference Center was abruptly called off after Ingredion brought several armed security guards to the facility.
Kirkwood representatives ultimately revoked the college's decision to provide conference rooms for the negotiations, after having hosted previous talks between the two sides.
In a statement after the incident, Ingredion representative Becca Hary said the company brought the security guards to the meeting because of safety concerns.
"Unfortunately, throughout this process, Ingredion employees have received repeated threats – in fact, there have been approximately 100 incidents since Aug. 1 alone," Ms. Hary said. "The safety and security of our employees is our top priority, and in light of these circumstances, security has been necessary throughout negotiations. (The Kirkwood) venue is one where the parties have met in the past, and we approached this meeting with the hope that progress could be made."
Mr. Davis said he hasn't been made aware of any threats by union members and no arrests have been made. He also security guards had been on hand for previous negotiations between the company and union.
"We mentioned at that time we thought the guards were counterproductive," he said. "We wanted everything to run smoothly, to be able to get in front of the company and hash out our differences peacefully. We do not feel that the company was responding in a similar manner."
A strongly-worded statement Sept. 21 from Charlie Wishman, president of the Iowa Federation of Labor, AFL-CIO, took it a step further in the wake of the incident, requesting an apology from Ingredion.
"The intent was clear in the actions of the company," Mr. Wishman said in the statement. "They were trying to terrorize or possibly even send a message they intend to harm people who are looking to discuss issues in their workplace and end a labor stoppage. It is completely unacceptable for striking workers who are merely trying to bargain in good faith to have weapons brandished at them, in a clear attempt to silence and intimidate union members."
Mr. Davis said after the meetings at Kirkwood were called off, the union offered to meet virtually for negotiations, but Ingredion declined the invitation. He also said the union offered several other negotiation sites, including the Cedar Rapids Public Library, police department and city hall.
As of Monday, Sept. 26, no further negotiations are scheduled between Ingredion and the union to end the strike.
The union represents about 122 Ingredion employees in Cedar Rapids.
Others have weighed in on the strike as well. The Gazette published an open letter from the Cedar Rapids City Council on its editorial page Sept. 15, in which the council urges both sides to "sit down together and bargain in good faith."
"Put aside your differences and negotiate professionally and ethically to do what is in the best interest of our community, and that is to get back to work," the council's letter says. "In times like these our community cannot afford to have people out of work. One paycheck missed is one paycheck too many. We believe in both parties and your ability to put an end to this strike that has already lasted too long. Our community and the City Council are counting on you."
Issues that led to the union members' unanimous decision to strike include a "two-tier" wage system that offers differing pay structures for longtime workers and those hired since the company's last contract with the union was approved.
Other issues include a reduction in vacation time, diminished seniority rights, changes in health care coverage policies, and a push to reduce workforce by outsourcing Ingredion's Cedar Rapids laboratory department.
In total, there are about 25 issues in dispute. Mr. Davis said none of the issues have been resolved thus far, and Ingredion's offer hasn't changed since Aug. 1.
"We've not whittled away at even some of the smaller issues," Mr. Davis said.
For their part, Ingredion released a statement on the strike that was published as a full-page ad in The Gazette Sept. 12, indicating that "we have negotiated in good faith and on a regular basis with the union, exchanging numerous proposals and enlisting a federal mediator."
The statement also indicated that the company's most recent contract offer included concessions on pay rates, benefits packages and growth opportunities.
"Ingredion stands ready to further our discussions with the objective of reaching an agreement that is fair and allows for the opportunity to sustainably build on the facility's proud 128-year history," the statement says.
Westchester, Illinois-based Ingredion acquired the former Penford Corporation, and its Cedar Rapids plant, in March 2015. The union began a previous strike in August 2015, citing issues with benefits at that time. A 2004 strike against the company spanned 78 days.
Ingredion makes sweeteners, starches, nutrition ingredients and biomaterials that are used  in products from foods and beverages to paper and pharmaceuticals.
The Cedar Rapids Ingredion plant continues to operate, filling orders using replacement workers, but union officials say they're concerned about reports of "dust-outs" and other safety-related issues that could result in accidents.