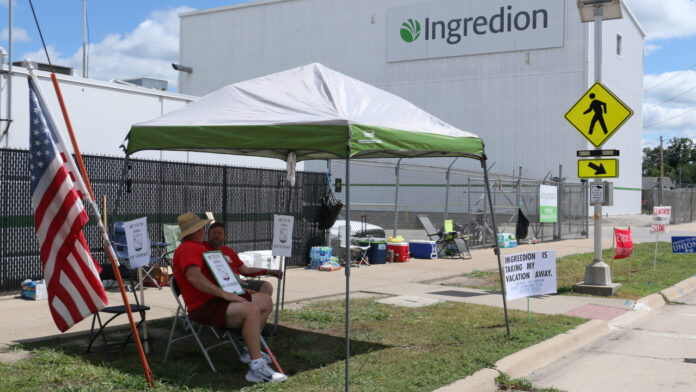 Over 100 faith, labor, and community members joined striking Ingredion workers on the picket line for a rally Sept. 30, as union leaders raise questions about how replacement workers are handling toxic chemicals in the plant during the strike.
In a news release, Jesse Case, secretary-treasurer of Teamsters Local 238 in Cedar Rapids, said speakers at the rally would describe the potential hazards of chemicals like ethylene oxide that are used in large quantities in starch production, and call for Ingredion officials to help resolve the strike by more than 100 members of the Bakery, Confectionery, Tobacco Workers and Grain Millers (BCTGM) Local 100-G union.
The event began at 6:15 p.m., when the group of picketers marched to the Jean Oxley Linn County Public Service Center at 935 Second St. SW in Cedar Rapids and called on local officials to "ensure that workers and the nearby community are safe." The group then returned to the picket line at Ingredion.
Ingredion workers produce industrial specialty starches used for paper and cardboard, as well as other products. Union leaders say starch dust and the use of combustible chemicals have also made the facility vulnerable to hazards, including explosions in 1919 and 1994. Striking union members say some chemical handling jobs at the plant take as much as a year to be fully trained, and workers regularly re-certify to ensure safety.
Speakers at the vent included Pastor Kevin Jones, bishop of the Northeastern Iowa Synod (ELCA); Rick Moyle, executive director of the Hawkeye Area Labor Council, AFL-CIO; David Osterberg, former clinical professor of public health; Jesse Case, secretary-treasurer of Teamsters Local 238; and BCTGM Local 100-G union leaders.
The strike began Aug. 1 after union members voted unanimously to reject Ingredion's "last, best and final offer" to resolve a series of issues that had prevented a new contract from being approved.
Those issues include a "two-tier" wage system that offers differing pay structures for longtime workers and those hired since the company's last contract with the union was approved, as well as reductions in vacation time, diminished seniority rights, changes in health care coverage policies, and a push to reduce workforce by outsourcing Ingredion's Cedar Rapids laboratory department.