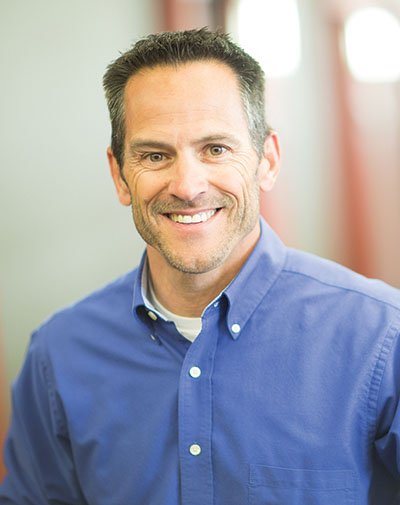 CFO, Van Meter
Private Large Company
Nominated by Kevin Powell, Van Meter
Mick Slinger of Van Meter Inc. is a different kind of chief financial officer, even though his career began as a public accountant.
"I don't really like the numbers so much anymore – I like people," Mr. Slinger said. "I don't like talking so much – I like listening."
Mr. Slinger's 21-year career at Van Meter has seen its transformation from a company with minority employee ownership to a 100 percent ESOP (employee stock ownership plan) structure, and its growth from $48 million in revenues in 1995 to $480 million in 2014. It is now the largest electrical and lighting supplier in Iowa, and the 28th largest in the United States, selling more than 800 brands.
Mr. Slinger's main mission in Van Meter's transformation has been educating its 400 employee owners about what ownership means.
"His greatest accomplishment is creating and teaching a culture of ownership that is based on financial and social responsibility," Chief Executive Officer Kevin Powell wrote in nominating Mr. Slinger for the Financial Executive of the Year honor.
Building that culture is a journey that continues every day, Mr. Slinger said.
"The first 10 years, I understood the potential of ESOP to change lives, I probably just didn't go about it the right way," he said. He was trying to share the numbers that told the story of the company's performance with employee owners – an approach that made sense from his perspective as a public accountant, but one that failed to engage workers.
The breakthrough came when Mr. Slinger began "teaching ownership rather than teaching the numbers." Instead of trying to educate all employees, he focused his efforts on a core group of "disciples" from different areas of the company and provided them with information to share with their peers.
Engaged employee-owners have been vital to the success and growth of Van Meter, according to Mr. Slinger. The proof is in the company's strong customer relationships, its growth and numerous honors for its ESOP program.
"There's nothing that I love more than helping people understand what they own and creating that line of sight to what they can see in their future," Mr. Slinger said.
Meeting Mr. Slinger, it might be hard to guess that he's a chief financial officer. He dresses in business casual and seems to know almost all of the employees by name. A religious man, he talks about Jesus and tends to shun the limelight whenever possible.
"My dad told me, 'It's not what you say; it's what you do,'" he explained.
But whether he likes numbers or not, Mr. Slinger definitely understands them. Mr. Powell gives Mr. Slinger's financial leadership much of the credit for converting a company that was losing $300,000 a month when Van Meter took it over into a profitable company in just 18 months.
That company is Warner Minnesota, a 50-50 venture between Van Meter and a Wisconsin-based partner. It is now as large as Van Meter.
"He has built and trained a team that he confidently delegates and empowers to manage our finances," Mr. Powell wrote in his nomination.
Mr. Slinger credited a handful of people and experiences in helping to influence his approach to life and work. His uncle, Sam Farner of Cedar Rapids, provided a strong role model for Mr. Slinger following some family difficulties during the farm recession of the 1980s. Mr. Farner was president of Farner-Bocken Company, a Cedar Rapids-based food service distributor to convenience stores. He helped his young nephew get a job in the warehouse.
"I just watched him with people and watched how he interacted with people," Mr. Slinger said. "He didn't have an enemy on earth. That's who I wanted to be."
He also cited his former work as a public accountant as valuable preparation for his current role.
"You're more than a business advisor than just an accountant locked in a room," Mr. Slinger said. "You get to see how sales, finance and all the different departments function and work together."
Mr. Slinger is now called on by some clients to advise them on business succession. He said he enjoys meeting with Van Meter clients and finding ways to be more successful together.
The ESOP story is often part of the conversation. Mr. Slinger said Van Meter isn't just selling products, but the way it builds relationships with clients.
"Our product is Van Meter." Mr. Slinger said.
– Dave DeWitte