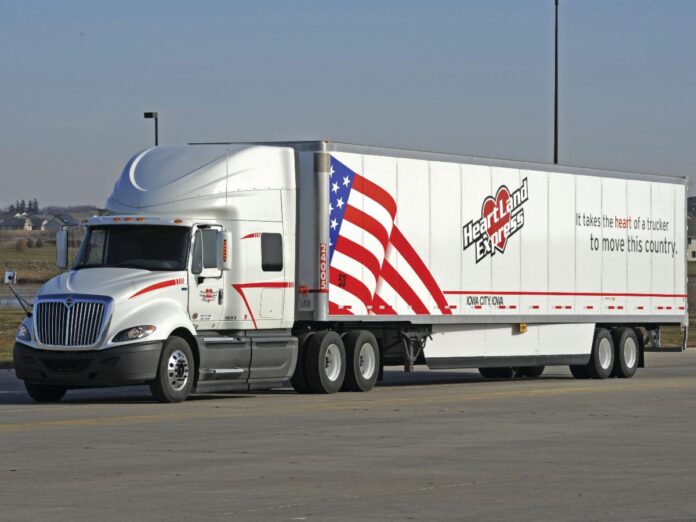 Heartland Express announced Q3 financial results Nov. 2, reporting record high operating revenue, total assets and stockholders' equity.
The quarterly operating results account for the company's first financial statements after acquiring Contract Freighters Inc. (CFI), a non-dedicated U.S. dry van and temperature-controlled truckload business, for $525 million in August. The transaction made Heartland Express the eighth largest truckload fleet in the country.
"The acquisition of CFI was immediately accretive to our consolidated earnings which reflects the solid operating foundations and the safe and professional CFI drivers that we have admired for many years," said Heartland Express CEO Mike Gerdin in a statement. "Further, this significant event occurred just a few months after the acquisition of Smith Transport."
Heartland officials announced a full acquisition of Smith Transport, a dry van truckload carrier headquartered in Pennsylvania, in June.
Through the first nine months of 2022, consolidated operations surpassed total operating revenue delivered in all of 2021.
Heartland expects to more than double annual operating revenue in 2023 when compared to 2021, according to the release.
The North Liberty-based company posted an operating revenue of $274 million, an increase of 79.5% compared to the same period the prior year.
"Freight demand in Q3 softened sequentially compared to the first and second quarters of 2022," said Mr. Gerdin. "While the current levels are down compared against the unprecedented levels experienced in the later months of 2021, we continue to have more opportunities to haul freight than we are able to cover with our existing fleet and available drivers. We expect volatile freight demand for the remainder of 2022."
Mr. Gerdin says Heartland will look to pay down debt obtained through recent acquisitions. Debt obligations "jumped tenfold to $465 million," according to FreightWaves, a supply chain news website.
He also expects special dividends will not be declared, common stock will be repurchased and no significant acqusitions will be made in 2023.
Net income was $24.4 million, relatively flat as compared to $24.5 million in the third quarter of 2021. Basic earnings per share were $0.31 during the quarter, in line with the same period of 2021.
The company ended the quarter with total assets of $1.7 billion and stockholders' equity of $840.9 million.
The November financial results surpass Q2 results, where the company set now-beaten records for total assets and stockholders' equity.