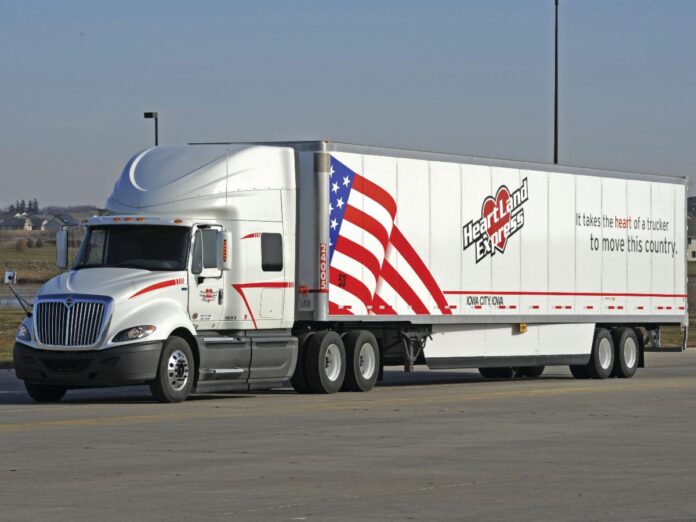 Heartland Express, based in North Liberty, reported strong financial results July 25 for the second quarter of 2022, including company records for total assets and stockholders' equity.
The trucking transportation company, established in 1978, reported operating revenue of $187.8 million for the quarter ending June 30, up nearly 22% from the $154.1 million in operating revenue from the second quarter of 2021 and beating analysts' estimates of $164.27 million.
Operating income for the quarter was $105.1 million, up from the $27.4 million reported in the same quarter a year earlier. Basic and diluted earnings per share (EPS) were $.97, as compared to $.26 from 2021's second quarter, a 273% increase and topping analysts' EPS estimates of $.25.
In mid-June, the company had reported a $.02 regular quarterly dividend to its shareholders, paid on July 7.
The report also showed total company assets of $1.1 billion and stockholders' equity of $817.9 million, both all-time Heartland Express records.
In a release, Heartland Express CEO Russell Gerdin also highlighted the company's acquisition of Smith Transport on May 31, noting that the operations of Smith Transport were immediately accretive to consolidated earnings in June 2022, the first month of operations with Heartland Express. The company also completed the sale of a terminal property, generating a $73.2 million gain.
However, Mr. Gerdin also pointed to a softened freight demand to the first quarter of 2022.
"While the current levels are down compared (to) the unprecedented levels experienced in the later months of 2021, we continue to have significantly more opportunities to haul freight than we are able to cover with our existing fleet and available drivers," Mr. Gerdin said. "Given what we have experienced and based on feedback from our strong group of customers, we expect volatile freight demand throughout 2022 but at volumes that will continue to exceed our available capacity.
"Hiring and retention challenges continue to exist for our consolidated company and for the entire industry," he added. "We remain committed to ongoing investments in our drivers, to ensure they receive a rewarding level of compensation."