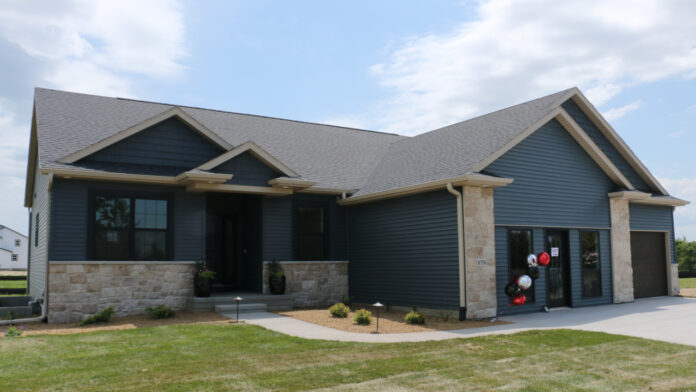 The first phase of the Prairie Landing housing development in northeast Cedar Rapids was officially launched Thursday, July 14 with a ribbon-cutting ceremony at the first model home in what will eventually comprise 200 residential units.
Hunter Skogman, president of land acquisition and development for Skogman Homes, said Prairie Landing, along the east side of C Avenue NE just north of Robins Road, is the company's first major housing development in Cedar Rapids in the last 20 years.
"We've been trying to purchase this piece of land for probably seven or eight years," Mr. Skogman said. "It's been a long process, but we finally got it done, so to get this to where it is now makes us very happy."
The first phase of the project, construction of 35 single-family homes, is now under way, and Mr. Skogman said it's planned for completion in the next 12 to 18 months. Another 30 to 35 homes will be built in the second phase.
In total, Mr. Skogman said the development will likely include construction of 200 homes over a period of eight to 10 years, and noted that zero lot homes or townhomes may be incorporated in the project's later phases. Floor plans will range from entry-level homes to custom designs.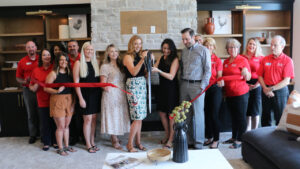 Mr. Skogman said rapid growth in northeast Cedar Rapids, including the ongoing extension project for Tower Terrace Road, makes the area appealing for development projects. He also said he hopes the Prairie Landing project, as well as the adjacent 279-unit Mercy Hallmar senior housing development, will encourage other projects to proceed, including Hy-Vee's proposed plans for a new store along Tower Terrace Road after the grocer closed its Collins Road store in January 2022.
"We understand they're in limbo right now, and we're hoping to help push them to come out here," he said of the Hy-Vee project. "Development spurs development. They go where the rooftops are, and there's going to be a lot of rooftops out here, we're hoping they reconsider."
Skogman Homes is also celebrating 75 years of building homes in Iowa, Skogman Homes president Jennifer Skogman said.
"This model (at 8750 Yeager Lane NE) is a brand-new plan and really shows off all the trends in new construction," Ms. Skogman said. "Building for 75 years means we have seen a lot of different layouts and styles, and we continue to adjust them to fit the current lifestyles of our buyers."
Click here for more information on the Prairie Landing development.