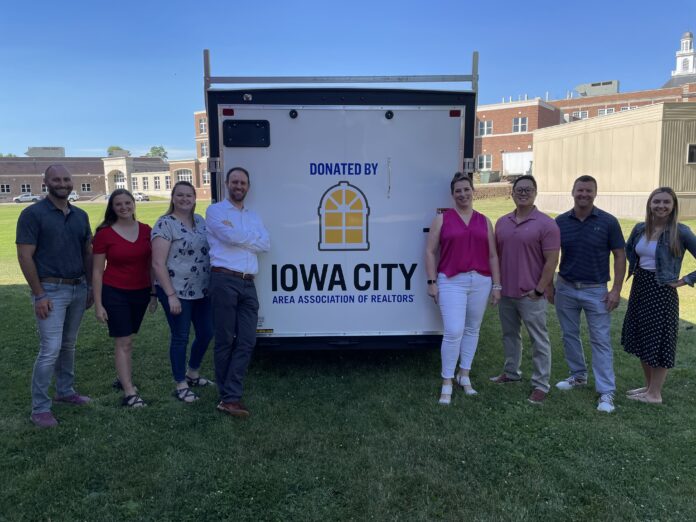 The Iowa City Area Association of REALTORS (ICAAR) donated a trailer to hold construction supplies to the Iowa City High School vocational trade program June 23, according to a press release.
Iowa City High School's vocational trade school is designed to teach students necessary skills within trade jobs such as builders, welders or plumbers.
"A couple of years ago we started thinking about how the Association could get involved with the community and students here," explained Tracy Adams, past president of ICAAR. "We found a good way to do it was to supply a trailer for them…to educate them a little bit on the workforce, the trades, and how to build a house."
The trailer will be used at construction sites around town and trade students from City High, West High, and Liberty High will be collaborating to learn and apply the ins-and-outs of the constructing homes.
"There's some great opportunities in the construction industry, and it's growing quickly and there's some great paying jobs," said Adam Pretorius, ICAAR treasurer, in a video posted to Facebook.
Students will be able to move the trailer and take it wherever they need, while still having access to all the tools they need.
ICAAR member Emily Farber says this trailer can directly benefit students like her son, who just graduated from Iowa City High School and is now pursuing welding instead of the traditional four-year degree.
"It just goes to show you that there's a lot of different paths coming out of high school," she said. "The trades are very important to our future. We need builders, we need people with skills, and the trades are very important for students to understand that there are other options for them."
Last month, the ICAAR raised $7,727 for the Cystic Fibrosis Foundation – Iowa Chapter through their annual bags tournament.