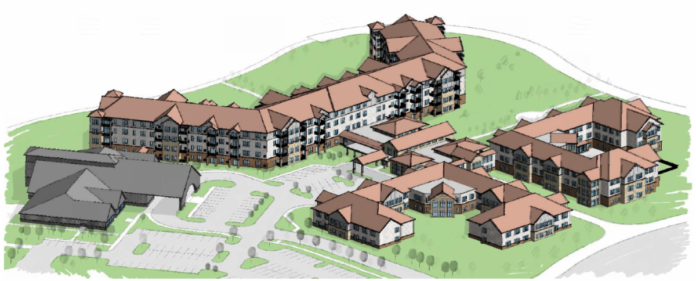 By CBJ News Staff
newsroom@corridorbusiness.com
Mercy Medical Center announced plans Wednesday for Hallmar Village, a medically integrated senior community planned in partnership with Presbyterian Homes & Services in Cedar Rapids.
Part of the Prairie Landing project profiled in the May 13 CBJ Real Estate Report, Hallmar Village will provide a full range of housing and services for older adults on a 42-acre site, including innovative, specialized care for those living with dementia. Housing options will include independent living and residential apartments, a town center with a dedicated community room, a conservatory with plants, a wellness center, a salon/spa and a theater. Dining options will include both restaurant and bistro-style facilities.
The former Echo Hill Presbyterian Church is part of the Hallmar site on C Avenue NE. It will house the Innovation Center for Aging and Dementia, where support services will be provided for people with dementia, their care partners and their families. They will include:
• Mercy's Memory Clinic, which is currently housed at the hospital, will be relocated to the new property to conveniently serve those living on-site, as well as extend services to the broader community.
• A specialized geriatric provider will have dedicated clinic space to provide ongoing care to residents; geriatric providers will also see residents in their homes, if necessary.
• The Family Caregivers Center of Mercy outreach team will offer resources consistent with those currently provided at their 901 Eighth Ave. SE location. 
• A day center will be available and tailored for early-stage dementia and inclusiveness for all.
• A living classroom will provide opportunities for various types of caregivers to learn how to better assist residents living in the facilities in which they provide care.
"With an innovative, medically integrated approach to aging and dementia care which is unique in this area and in partnership with Presbyterian Homes & Services, we are eager to continue our work in this important arena to create an exceptional senior living community to benefit and meet the needs of older adults," Mercy Medical Center president and CEO Tim Charles said in a release. He said the vision for the community is based on ongoing initiatives to change the culture of how brain health and dementia are viewed.
Construction is expected to begin spring 2021 and be completed in 2022. Details are available by calling Annie Pollock, (319) 249-9763. CBJ