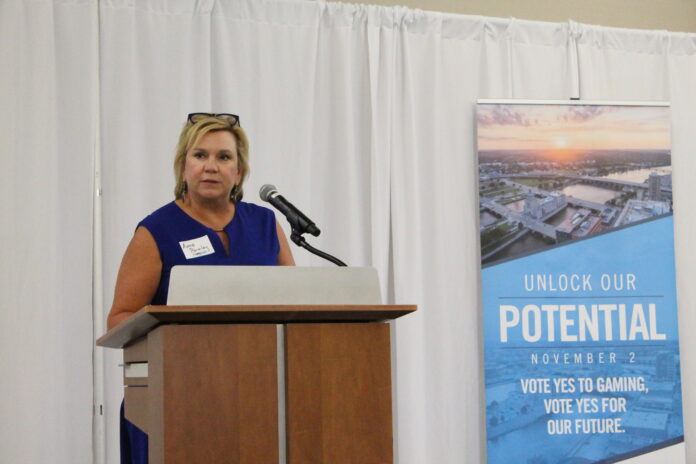 Leaders and supporters of Linn County's Nov. 2 gaming referendum gathered Wednesday afternoon to make their case for voter approval, which could pave the way for an eventual casino in the county.
And the case for approval was significantly boosted at the event. Natalie Schramm, chief financial officer for casino developer Peninsula Pacific Entertainment, announced that under an agreement with the Linn County Gaming Association, the group that would hold the license for any gaming venture, Linn County nonprofit agencies would receive 8% of net revenue from a casino's operations – more than double the 3 percent allotment required by state law.
"We're very excited to be here and to continue to be your partner, building a vibrant community together," Ms. Schramm said Wednesday. "Together we really believe that we can do more and be more."
Wednesday's luncheon was also attended by representatives of numerous area nonprofit groups – Iowa is the only state requiring a portion of any gaming venture's proceeds be distributed to nonprofit organizations in their market area. Such proceeds have meant millions to nonprofit agencies in the Riverside, Waterloo and Dubuque areas, where state-licensed casinos have operated for several years.
As the result of a resolution passed by the Linn County Board of Supervisors in July, county voters will cast their ballots in the Nov. 2 general election on a new referendum to authorize casino gaming in the county. If passed – a simple majority is needed for approval – the measure will permanently authorize gaming in Linn County and pave the way for a Cedar Rapids proposal to again be presented to the state commission for consideration.
The last county-wide gaming referendum was passed by just over 61% of Linn County voters in 2013, a contentious election that cost north of $2.2 million. That eight-year authorization is set to expire this year.
The state's Racing and Gaming Commission has twice rejected casino plans for Linn County, most recently in November 2017, when commissioners voted 3-2 against three separate casino proposals. Commissioners said at the time a new casino would excessively "cannibalize" gambling proceeds from established casino operations at the Isle of Capri in Waterloo, the Riverside Casino in Riverside and other state-licensed casinos in the region.
The commission also voted 4-1 against a single $164 million Cedar Rapids casino proposal in April 2014, based largely on the same factors.
If the referendum is passed, the Linn County Gaming Association and Peninsula Pacific Entertainment will jointly apply for a state license for a casino in Linn County to the Racing and Gaming Commission.
The Linn Wins! campaign is focusing on shifts in the gaming market, an uptick in sports betting and other factors that have altered the landscape for gaming ventures, including new gaming expansion laws passed in two bordering states – Nebraska to the west and Illinois to the east.
Anne Parmley, president of the Linn County Gaming Association, said Wednesday she's focused on approval of the Nov. 2 referendum, and that it's too early to talk about next steps, including a possible location or other details.
The gaming regulation landscape has changed at the state level – the Racing and Gaming Commission has four new members and one open spot – but the commission hasn't authorized a new casino license since 2010, when a license was granted for the Grand Falls Casino Resort in Larchwood. A number of other proposals have been rejected by the commission since then, but Ms. Parmley said many factors have changed in the Cedar Rapids area of late, including the dual economic challenges of the pandemic and last year's derecho.
"We hope for a fresh look (from the commission), because of those changes and their impact on the revenue of the state," she said. "I can't speak for the new commissioners, but those are things that we think are important to us."
In addition to Ms. Parmley, LCGA board members include Todd Bergen, vice president for commercial real estate and business development for Skogman Realty; Zach Bohannon, director of strategy for Estes Partners; Brooke Fitzgerald, partner of the Restoration Project; and Monica Slaughter, assistant Linn County Attorney.
The Cedar Rapids Development Group — made up of mostly local investors — also is supporting efforts to pass the referendum. The group has an agreement with Cedar Rapids through Oct. 9, 2029, for the city to exclusively support the group in a casino license application.
The chair of the Linn Wins! campaign to pass the referendum is Drew Skogman, an executive with Skogman Homes and an investor in the Cedar Rapids Development Group.
No organized opposition to the referendum has surfaced so far, and no specific casino proposal has yet surfaced for potential state consideration.