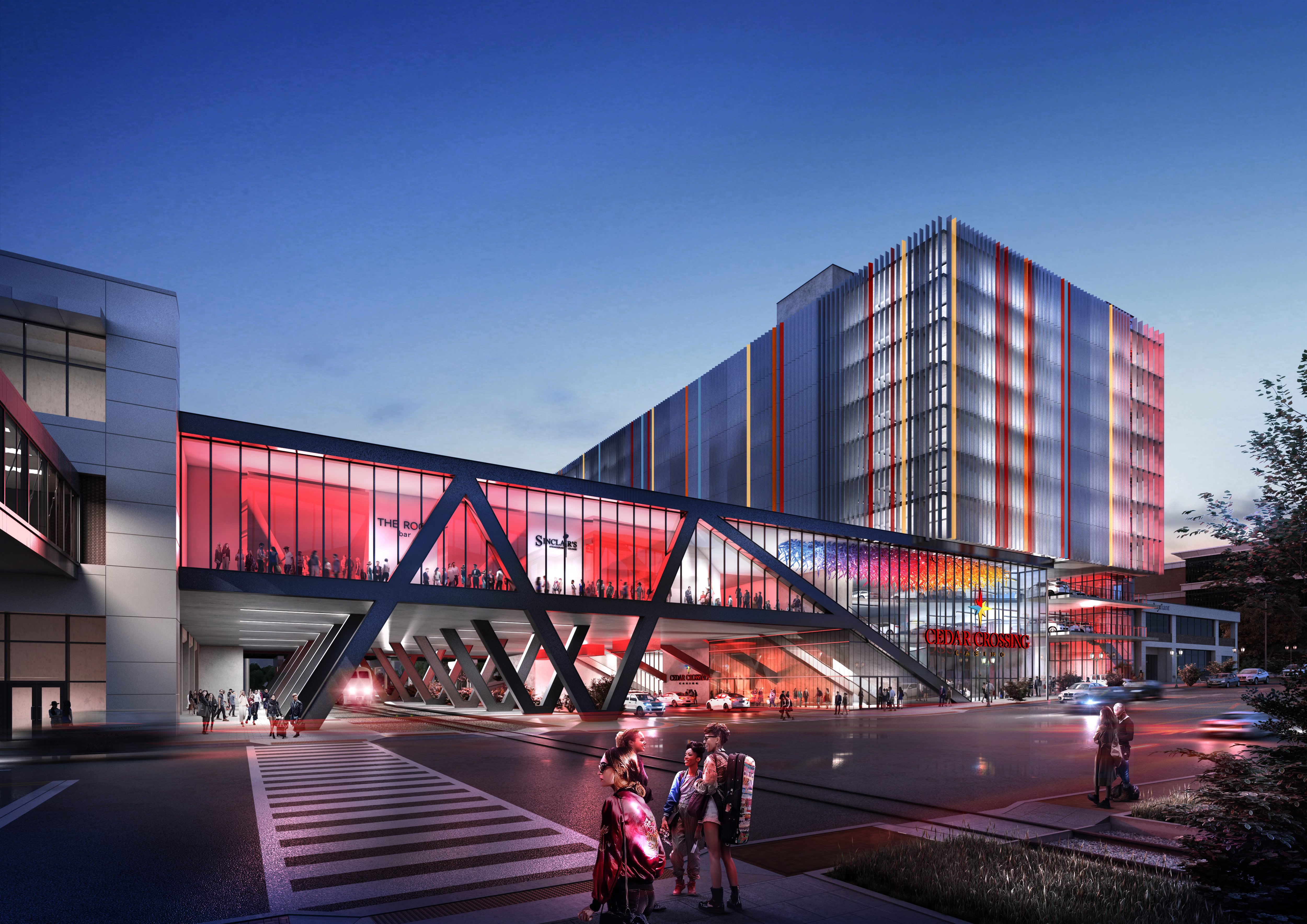 A rendering of the Cedar Crossing Central proposal, would give the city a large new parking ramp to replace the aging Five Seasons Parking Ramp. CREDIT CRDG/Peninsula
By Dave DeWitte
dave@corridorbusiness.com
For the two groups competing in the latest round of proposals for a Linn County casino, it's become a question of how small can you go.
The hope is that by making a casino proposal small enough, it will be able to "squeeze in the door," as one project partner put it, with the Iowa Racing and Gaming Commission.
The commission in 2014 shot down a previous proposal by the Steve Gray-led Cedar Rapids Development Group (CRDG) that had strong local support, solely because of estimates that 73-81 percent of its revenues would come at the expense of other Iowa casinos. That left a smaller casino as the best hope for winning acceptance.
With a three-year moratorium on considering new casino applications soon to expire, veteran Iowa casino operator Wild Rose Entertainment was the first to try to exploit the possible opportunity. Wild Rose lined up a development deal with Steve Emerson of Aspect Architecture and Hunter Parks of Hunter Companies on a small "boutique" casino project.
The partners pitched the $40 million project as a first for Iowa, combining an urban location with a compact footprint that included about 700 slot machines and 15-20 gaming tables in a new building Mr. Parks and Mr. Emerson's companies would develop at 411 First Ave. SE.
CRDG, not to be left out, last week submitted a $105 million, 550 slot/15 table casino just across First Avenue from the site proposed by Wild Rose where a city parking garage now stands. It also resubmitted its earlier proposal for a $165-million, 840 slot/22 gaming table casino with development partner Peninsula Pacific.
Peninsula Pacific CEO Brent Stevens seemed to suggest at a recent press conference that the smaller casino has the best shot at a license. CRDG and Peninsula Pacific's own economic impact study indicated its small casino proposal would reduce revenue by only 4.7 percent at Riverside Casino and Golf Resort in Riverside, which previous studies have shown to be the casino most vulnerable to losing business from a Cedar Rapids casino.
"What we learned in 2014 was the size of Cedar Crossing on the River was larger than the Iowa Racing and Gaming Commission was comfortable in allowing," Mr. Stevens said, adding the group decided it was important to offer the larger proposal as well because of its many benefits to the state and the community.
CRDG and Peninsula worked out their proposals with assistance and input from the city, releasing them on the eve of the Feb. 13 license application deadline in hopes of not tipping their hand. Wild Rose eventually applied with a 600 slot/20 table proposal smaller than it originally pitched.
Acceptance of either of the two smaller applications could leave Cedar Rapids with a casino not much larger than those in Emmetsburg, Jefferson, or Marquette, although it would likely be a bigger draw because of the larger local population and visitor base.
Sixty-one percent of Linn County voters who participated in a 2013 referendum voted in favor of allowing a casino license in the county, while 39 percent were opposed. They were in many ways responding to the original Cedar Crossing on the River proposal, which was the only one on the table at that time.
"It just seems like that 61 percent of voters should be recognized for having voted for a full-amenity casino," said Maureen Hunt, a citizen who addressed the city council Feb. 14.
After Ms. Hunt spoke, Daniel Kaiser took the podium. He expressed concerns that the Wild Rose Cedar Rapids proposal wouldn't be large enough to compete with the others in the area.
They were not alone in their views on small casinos. The bigger-is-better contingent includes Mayor Ron Corbett, who prefers Cedar Crossing on the River. He said the city-owned site of Cedar Crossing on the River could be the best in the state, with its downtown location, riverfront views and easy access from I-380.
"It's bigger and it can have a greater impact," Mr. Corbett said, explaining why he'd rather see that license application approved rather than the two smaller ones.
But Mr. Corbett said he could support either CRDG proposal because each brings distinct advantages for the city. The Cedar Crossing Central proposal would give the city a large new parking ramp to replace the aging Five Seasons Parking Ramp, potentially saving the city about $30 million in borrowing, and would drive business to the city-owned DoubleTree by Hilton and U.S. Cellular Center via a connecting sky deck.
The Cedar Crossing on the River proposal would spark a revitalization of the Kingston area in downtown Cedar Rapids that still needs investment to recover from the flood, and would also add a parking garage that would help meet the needs of the city-owned outdoor McGrath Amphitheater.
The city council supported only the CRDG proposals at its Feb. 14 meeting, extending and expanding exclusive agreements with CRDG that were set to expire in November 2019 until 2029. Those agreements allow for CRDG to acquire either of the city-controlled sites for the casino and provide approvals needed to satisfy license requirements. CRDG is obligated to make $75,000 annual payments to the city and satisfy other conditions, including payments of 1.5 percent of the adjusted gross receipts of the casino above $50 million.
Beyond the willingness to provide the sites, the city guarantees it will offer tax increment financing and other forms of economic assistance typical for large projects.
Wild Rose Cedar Rapids backers said in their application for a state license that they have not asked the city to back out of its exclusive agreements with CRDG. They said Mr. Gray declined an offer by Wild Rose to work together on a Linn County project.
Although the city's backing and CRDG's last-minute unveiling of its two proposals stole the spotlight, Wild Rose Entertainment indicated in a statement to the CBJ that it still has hopes, saying it has diligently refined its proposal since introducing the concept last September.
"Our proposal reflects the priorities and guidance of the Iowa Racing and Gaming Commission, and it is designed to complement the growing downtown Cedar Rapids entertainment district, while providing a valuable source of new revenue for Linn County," said the statement from Wild Rose President and Chief Operating Officer Tom Timmons. "We look forward to moving ahead with the application process and feel confident in the merits of our proposal."
City Council Member Scott Overland, who'd received numerous calls and emails from citizens about the new proposals, had a message at the Feb. 14 council meeting. That message was essentially, it's up to the state gaming commission, not us.
"Regardless what their decision is, whatever group that is, we'll work with whatever group gets the license to get the best project possible," Mr. Overland said.