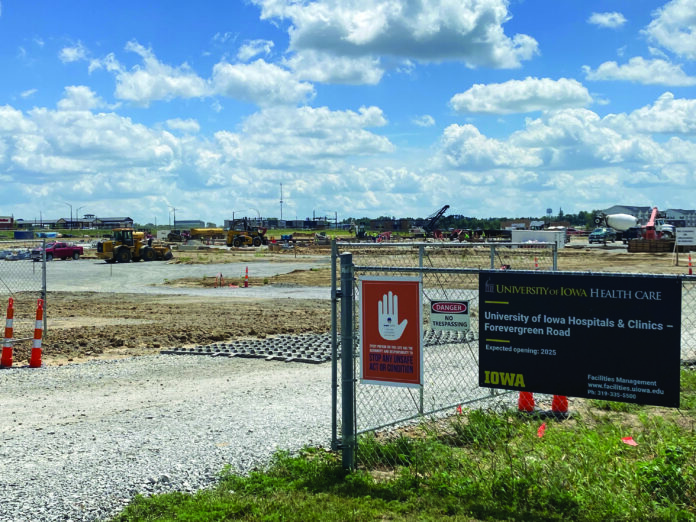 The University of Iowa Hospitals & Clinics will receive a sizable budget increase for their new North Liberty hospital, totaling $525,628,000 – a 33% increase from previously released budgets.
Citing "multiple convergent industry challenges" like construction market inflation, limited availability of construction materials and labor shortages, UIHC determined it necessary to ask the Iowa Board of Regents for an increased budget at a meeting July 27. The increased budget was described as "worst case cost" during the presentation.
"We don't do this lightly," UI President Barbara Wilson told the Board of Regents. "We've done a lot of work constraining our expenditures."
A revised budget shows construction costs account for the bulk of the increase, as they expect construction will cost nearly $100 million more than anticipated.
During a news briefing July 19, university officials emphasized the project remains the same — other than modifications needed for an intersection to combat traffic flow, according to UIHC Interim CEO Kimberly Hunter — and design, square footage and floor plates are no different from the proposal approved in September.
"All of the cost increases … are about outside forces upon this project and upon the construction industry," said Rod Lehnertz, senior vice president for finance and operations, during the news briefing. "For instance, the war in Ukraine and also generally related to materials and inflation and lead times that have grown from weeks to over a year for many of the systems."
According to the documents presented to the Board of Regents, worldwide glass prices are up 35-40% in recent weeks, a local electrician shortage and aluminum shortages stemming from Russia and Ukraine are presenting unique, unforeseen challenges with building the hospital.
The university expected projected construction costs by their Construction Manager at Risk, JE Dunn, would increase yet again after Aug. 1 if a new budget was not locked in before the end of the month, and that waiting for cost of products to decrease would be ineffective and have an adverse impact on patient care.
University of Iowa officials have previously said the project would cost around $395 million, although initial price points during Certificate of Need presentations in August 2021 were closer to $230 million. They point to comparable facilities — like Norman Regional Hospital in Oklahoma or Trailwinds HCA Hospital in Florida — that required a similar percentage increase compared to the original budget due to construction complications.
Construction is currently underway at the North Liberty site — which will accommodate 48 inpatient beds, 21 emergency care rooms and 16 operating rooms — with 35 bids to still be received by the end of August. All bid awards will be reported to the Board of Regents and all the cost savings will be compared versus the final Guaranteed Maximum Price, according to presentation documents. This process saved $2.9 million during phase one sitework.
The increased funding will come from University Hospital Building Usage Funds. The campus is expected to be ready by June 2025 and these budgetary changes are not expected to delay the launch date.
Updated: July 27