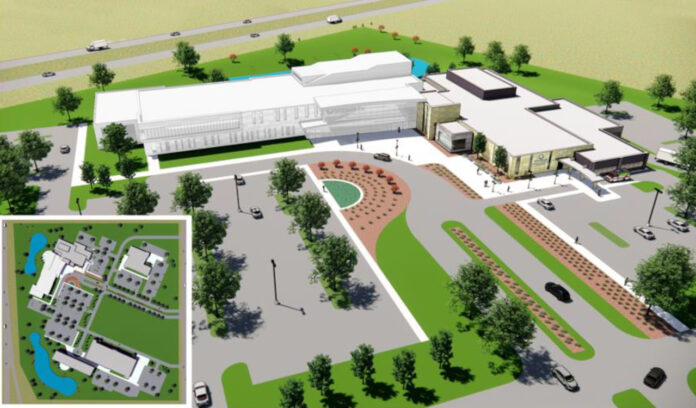 The State Health Facilities Review Committee on Monday unanimously approved Steindler Orthopedic Clinic's certificate of need application for a new ambulatory surgery center (ASC) in North Liberty – and in a surprising development, two groups that had announced plans to formally oppose the project dropped their efforts just before Monday morning's committee meeting.
Steindler president and CEO Patrick Magallanes said Monday he was "delighted" with the board's vote, noting that while full details haven't yet been worked out, officials hope to open the new ASC by the end of 2024.
"We were optimistic that we would be able to demonstrate the need for this type of project," Mr. Magallanes said. "We're very busy with orthopedic cases, and we don't have room (at our existing location) any more. We thought if we made our case, that there was a need and that we provide exceptional care, we felt the council would vote in favor of what we're trying to do."
The lack of opposition, originally planned by the competing Iowa City Ambulatory Surgery Center and Johnson County Surgical Investors, wasn't disclosed until Monday morning.
"I think at the end of the day, the folks that were in opposition understood that we were trying to do something different and that we had a need for something different," Mr. Magallanes said. "Everyone came together and found a way to just move forward with private practice physicians in Johnson County, agreeing that the best thing that they could do is to work together."
Steindler had announced plans in February 2021 to relocate operations from its four-acre, 36,000-square-foot clinic building in Iowa City to a 36-acre medical campus near the intersection of Forevergreen Road and Highway 965, near the site of the new $395 million UI Health Care facility, now under construction.

Besides the 71,000-square-foot Steindler Orthopedic Clinic, officials are proposing a physician office building, acute care hospital, general market hotel and space for future development. The proposed hospital would require approval of a separate Certificate of Need application.
The new surgery center is part of a strategic partnership announced in February between Steindler and Mercy Iowa City, including plans to jointly develop the North Liberty medical park.
The partnership will serve patients needing high-quality orthopedic care in Johnson County and Eastern Iowa, officials said. The two organizations have partnered on orthopedic services for 70 years, and the new venture follows a national trend of orthopedic groups and hospitals creating formal relationships to strengthen access and quality.
Mr. Magallanes also said Monday that Steindler is hiring a new employee that will be resident at Mercy Iowa City, helping to provide a "continuum of care" as part of the two groups' longstanding partnership.
Steindler's certificate of need (CON) application for the surgery, filed with the Iowa Health Facilities Review Council in October 2021, proposes adding a $17.9 million freestanding ambulatory surgery center at the North Liberty site, to be wholly owned by Dr. Taylor Dennison, a Steindler partner and orthopedic surgeon.
In the CON application, Steindler officials said the new facility is needed to keep the costs of outpatient orthopedic procedures in check by providing a competitive option, to develop operating rooms with adequate space to accommodate robotic surgery procedures, and to provide private physicians in Johnson County "a competitive chance at staying in private practice," especially considering UI Health Care's new project.
"The vision is to create a premier destination for orthopedic care," Mr. Magallanes said when the Mercy partnership was announced. "Steindler had a vision for the future of orthopedic care and independent physician practice in our community and committed to the concept by purchasing land in North Liberty. We anticipated Mercy Iowa City would be our partner in the vision from the beginning."
Mr. Magallanes also said Monday that Steindler has entered into a letter of intent for an investor group to purchase the existing Steindler building in Iowa City once Steindler moves into its new facilities. He declined to provide further details on that agreement, citing a nondisclosure agreement between the two parties.