Spent fuel from the Duane Arnold Energy Center's now-shuttered nuclear reactor will be transferred to on-site dry storage facilities beginning this year, the plant's owner, NextEra Energy, confirmed Wednesday (Oct. 13).
NextEra communications specialist Lindsay Robertson confirmed the plan to begin transferring the spent fuel before year's end, but said she couldn't confirm when the process would be finished.
Transferring the reactor's spent fuel is part of the decommissioning process for Iowa's only nuclear power plant, which ceased operations permanently following the Aug. 10 derecho that brought winds of up to 140 mph to the Corridor, causing heavy damage to the plant's cooling towers.
The plant was already scheduled to be taken offline in October 2020 after its main customer, Alliant Energy, paid $110 million in 2018 to exit its power purchase agreement with the plant several years early. The utility also agreed to replace most of that power with wind power from NextEra wind farms in the state.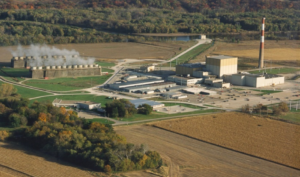 The 615-megawatt plant was forced into an emergency shutdown on Aug. 10, but officials initially reported the plant's condition as stable following the storm.
According to a subsequent NextEra Energy statement, further inspections of the plant revealed "extensive damage to Duane Arnold's cooling towers," used to cool steam after it exits the plant's turbine. Officials stressed that there was no damage to infrastructure used to cool critical nuclear components, but noted that repairing the cooling towers would not be feasible before its October decommissioning date, leaving the plant incapable of restarting.
The company is working with current and former Duane Arnold employees to "minimize the impact of this situation on them and their families." That includes an "enhanced retirement" plan for eligible employees, placement in other jobs throughout the company and job search support services.
The full decommissioning process for the plant is expected to be completed by the year 2080, NextEra officials say.