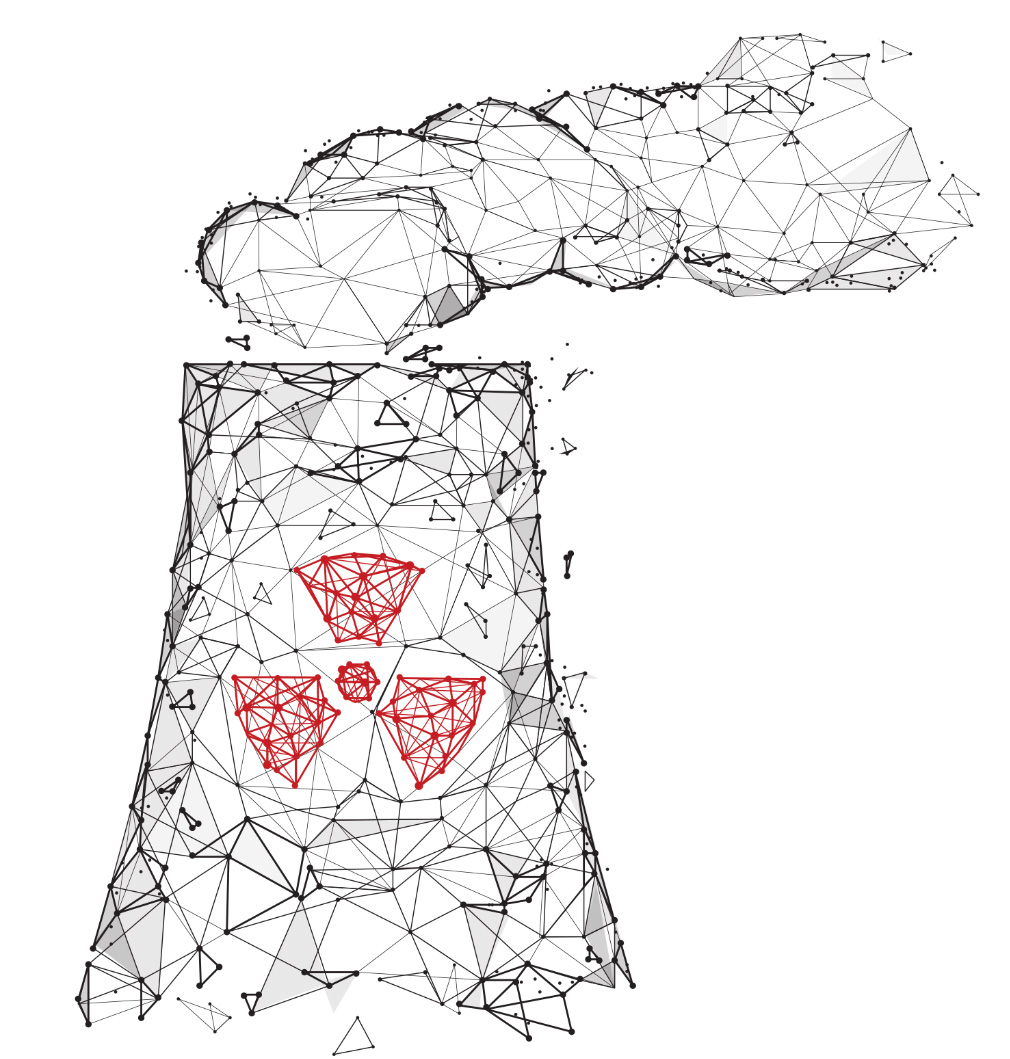 By Dave DeWitte
dave@corridorbusiness.com
The recent decision by NextEra Energy to close Iowa's only nuclear power plant in 2020 will be a sharp blow to the Corridor, erasing more than 500 jobs and hundreds of millions in annual economic impact over a period of years.
NextEra Energy announced on July 27 that it intends to close the Duane Arnold Energy Center north of Palo in 2020, even though it is licensed to operate for another 14 years, until 2034. The company had already announced in January that it was planning to close the plant in 2025 because it did not expect its main customer, Alliant Energy, to renew its power purchase agreement (PPA) for the majority of the power produced by the 615-megawatt plant, and finding another customer given the current market environment might have been impossible.
Cleaning up Duane Arnold so that it's safe enough for other kinds of uses is a process that can take decades, according to the Nuclear Regulatory Commission. NextEra already has more than $400 million stored up to pay for decommissioning the plant's operations, and the final cost is likely to be greater than that.
The trigger for the plant's closure in 2020 was Alliant's decision to pay NextEra $114 million to buy its way out of the PPA several years early. Further sweetening the deal was Alliant's agreement to replace most of the nuclear-generated power it was buying from Duane Arnold with lower-cost wind power from NextEra wind farms in Iowa.
Duane Arnold Energy Center has been one of most efficient and safely operated nuclear plants in the United States, according to NextEra. The plant generates about $255 million in annual spending in Iowa, according to a 2014 study by the Nuclear Energy Institute, and creates about 1,100 direct and indirect jobs. It is a large contributor to county property tax revenue, and has been a vital link in the regional power grid during times like the 2008 flood, when other local power plants had to close.
In a joint statement, NextEra and Alliant painted the decision as a net positive for consumers, saying they will save $300 million in energy costs, on a net present value basis, over 20 years by switching to less costly power sources.
Alliant's cost savings estimate will be carefully analyzed by consultants representing consumer groups. Robert Latham, who's been representing the Resale Power Group, a group of large power users, in Alliant rate cases, said he expects to see some savings for customers when the analysis is complete, but nothing as large as $300 million.
"They're dramatically overstating the benefits of the longer-term cost savings," said Mr. Latham, of Latham & Associates. "They are based on projections that are hugely overstated."
Alliant officials explained that their calculation actually came to a savings of $295 million, which was rounded to $300 million. The main elements are a savings of $242 million for not being required to pay for Duane Arnold's power from Jan. 1, 2021 to Dec. 31, 2025 at projected market prices, and $167 million in savings reflecting the energy and capacity value of four new PPAs for repowered NextEra wind farms, minus the cost Alliant will be paying for the PPAs. Subtracted from that $409 million in projected savings is Alliant's $114 million buyout of its Duane Arnold PPA.
In other cases seeking approval of wind energy investments, Mr. Latham said Alliant has projected significantly higher costs in coming years for generating power from natural gas. However, futures markets show the cost of natural gas remaining stable over an extended period of years. NextEra and Alliant also painted their agreement to close the plant as a win for the state, saying NextEra will be investing $650 million to upgrade equipment at its existing Iowa wind farms to make them more productive and efficient.
The four "repowered" wind sites will include NextEra's Cerro Gordo, Hancock, Endeavor II and Crystal I wind projects in northern Iowa.
Thirty percent of Duane Arnold is owned by two wholesale electric cooperatives that distribute its power to rural electric cooperatives and power associations in the state. The July 27 announcement left them with a more guarded response.
"As minority owners of Arnold Energy Center, we're concerned how the up-front financial burden associated with closing the plant may impact our members," Central Iowa Power Co-operative (CIPCO), a 20 percent owner of the plant, said in a statement. "We're hoping to work with the other owners for a positive outcome."
CIPCO gets about 35 percent of its power from Duane Arnold, and sees the closing as an opportunity to rebalance its energy portfolio with other sources of low-cost, sustainable energy. But the co-op also noted that it still has debt incurred from the financing of plant upgrades needed to secure a 20-year extension of its operating license. That was approved by the NRC in 2010.
The view from Palo
The local impacts of closing the plant will take time to assess, according to the current mayor of Palo and a former Palo mayor who is now chairman of the Linn County Board of Supervisors. They say the biggest factor will be what NextEra decides to do with the site after it closes the plant.
"There are some thoughts they've mulled over," said Board Chairman John Harris, mentioning a solar power farm and a natural gas-fueled generating plant as two he's heard.
"I just don't think that after they decommission the plant that vines and plants will grow over it and it will just sit there like a graveyard," he added.
Mr. Harris said Duane Arnold is the county's seventh-largest property tax payer, providing some 0.3 percent of the county's property tax revenue. Although remarking "I hate to see it," he said the blow will not be catastrophic to the county. He said NextEra has also pledged to cushion the blow to the plant's workforce.
About two dozen plant workers and their families live in Palo, according to current Mayor Ryan Scheckel, and some of them have confided they don't know what they'll do after their jobs end. Mr. Scheckel said he's not sure how many families will have to move away, but one thing the town will miss is the traffic it generates at local businesses like the Pit Stop, a convenience store, and Brogan's, a local pub.
NextEra spokesman Peter Robins said that after the plant is taken offline in late 2020, he expects the workforce to shrink from the current 550 to about 300. After that, he said the number will gradually decrease to about 50 after five years, at which time all the nuclear fuel will have been removed from the plant itself.
NextEra and Alliant both plan to consider Duane Arnold employees for openings in other areas of their companies, Mr. Robins said, and severance packages will be offered for other affected employees.
The announcement in January that NextEra was proposing an early closure for the plant in 2025 brought some calls from community and political leaders for legislative intervention to help the plant remain open. The Cedar Rapids Metro Economic Alliance held several meetings with Alliant to discuss how that could happen, with participants looking at examples of how deals had been structured to prevent nuclear plant shutdowns in other regions.
"It was clear from the outset that this was a challenging issue, balancing the important factor of industry energy costs with the equally important factor of the quality jobs and economic impact associated with the plant," said Doug Neumann, executive director of the Economic Alliance, in an emailed statement. "Alliant, NextEra, CIPCO, Corn Belt Power, the city of Palo, Linn County, contractors and suppliers, plus the represented workforce at the plant all had interests to be weighed."
With last week's announcement, Mr. Neumann said his organization is now focused on how it can help over the longer-term to redevelop the plant site and work with ICR Iowa, the regional economic development corporation, to assist workers who are affected.
Inside NextEra's decision
NextEra's Peter Robins said the company became aware that Alliant did not plan to renew its PPA for Duane Arnold during a 2017 Alliant wind farm investment recovery case before the Iowa Utilities Board. He said NextEra intervened in the case and made arguments before the board regarding the environmental benefits and economic impact of the nuclear plant.
On a fundamental basis, however, Mr. Robins said NextEra believes that energy decisions should be based on economic factors. He said the prices for power generated by wind turbines and natural gas plants have gone down, undercutting the price of nuclear power in many cases.
One of the stronger arguments for keeping Duane Arnold is its ability to provide "baseload" power that the grid can pull from during periods when there is little wind to turn wind turbines or sunshine to power solar panels.
Wind energy's output is unpredictable, however it is cheaper due to improved wind turbine technology and a federal production tax credit that sharply reduces costs for qualifying facilities. Meanwhile, combined cycle natural gas power units, benefiting from the falling price of the fossil fuel, are able to fill in the peaks and valleys in wind farm output. Robert Latham, of Latham & Associates, said natural gas plants like Alliant's new Sutherland Generating Station in Marshalltown can quickly ramp up and down to balance the output of wind farms, while nuclear power plants cannot.
Alliant spokesman Justin Foss said the deal for early decommissioning of Duane Arnold came about as a result of discussions on extending the utility's PPA with the plant. The prices quoted by NextEra did not seem appealing for Alliant's customers, Mr. Foss said, and when NextEra proposed an early buyout of the PPA, Alliant responded favorably.
The July 27 announcement triggers what will be a years-long regulatory process that will include Alliant Energy filing an application for state approval of its wind power deal with the Iowa Utilities Board, and NextEra Energy filing with the board to take Duane Arnold out of service.
What's next?
NextEra is required within 30 days of its public announcement to file a written notification that it plans to take Duane Arnold offline, according to Viktoria Mitlyng, a spokeswoman for the Nuclear Regulatory Commission. The notice will not be legally binding, and NextEra will have the ability to reverse its decision up until the point where it turns off the plant's reactor.
"Once the company takes the fuel out of the reactor, that changes the license," Ms. Mitlyng said. "You've turned off the engine and you cannot turn it on again."
The only way the plant could be reactivated after that point, Ms. Mitlyng said, would be if NextEra or another operator reapplied for an entire new operating permit for the site, a lengthy and costly process.
Within two years of shutting down the reactor, the operator must file a plan detailing what decommission plan they will choose. Options include a radiological cleanup process known as safe store, or an active decommissioning process that includes disassembling the reactor and building. Owners have up to 60 years to completely clean up the site, Ms. Mitlyng said. Although the NRC will no longer have its two resident inspectors at the plant once the reactor is shut down, it will continue to perform regular inspections.
"One there is no longer a nuclear reaction, the risk of a radiological emergency drastically decreases," Ms. Mitlyng said.
Mr. Harris, the former Palo mayor and current Linn County supervisor, noted that Duane Arnold has already far outlived the original operating plan for its lifespan when it was built in 1974. Still, he said, "It's sad to see it go. They were good neighbors and contributed a lot to Palo."