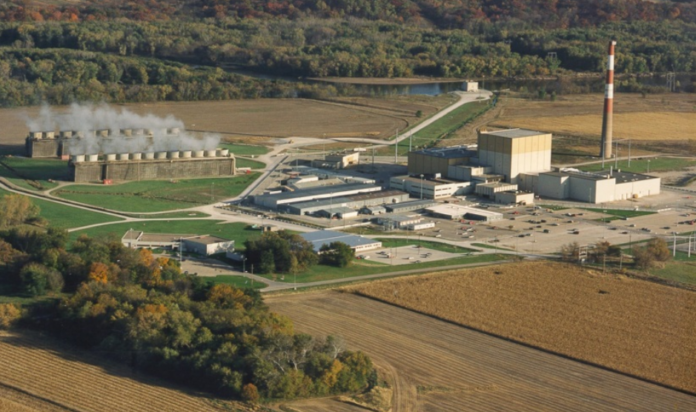 An aerial view of the Duane Arnold Energy Center in Palo, with the cooling towers pictured at left. PHOTO NEXTERA 
By CBJ News Staff
news@corridorbusiness.com
Iowa's only nuclear plant will cease operations permanently following the Aug. 10 derecho that brought winds of up to 140 mph to the Corridor, causing heavy damage to the plant's cooling towers, according to owner NextEra Energy Resources.
The Duane Arnold Energy Center in Palo was already scheduled to be decommissioned on Oct. 30, after its main customer, Alliant Energy, paid $110 million in 2018 to exit its power purchase agreement with the plant several years early. The utility also agreed to replace most of that power with wind power from NextEra wind farms in the state.
The 615-megawatt plant was forced into a shutdown on Aug. 10, but officials initially reported the plant's condition as stable following the storm, news partner KCRG-TV9 reports. 
According to a statement released by NextEra Energy Resources, subsequent inspections of the plant revealed "extensive damage to Duane Arnold's cooling towers," which are used to cool steam after it exits the plant's turbine. Officials stressed that there was no damage to infrastructure used to cool critical nuclear components, but noted that repairing the cooling towers would not be feasible before its October decommissioning date, leaving the plant incapable of restarting. 
The company said it will continue to work with employees at Duane Arnold to "minimize the impact of this situation on them and their families." That includes an "enhanced retirement" plan for eligible employees, placement in other jobs throughout the company and job search support services.
Closure-related layoffs of Duane Arnold's roughly 500 employees are expected to be gradual, based on different steps within the process of decommissioning the plant, according to Director of Nuclear Communications Peter Robbins. That is expected to be a multi-year process involving removal of fuel from the reactor and ultimately dismantling of the plant.
Within two years of shutting down the reactor, the operator must file a plan with the Nuclear Regulatory Commission detailing what decommission plan they will choose. Options include a radiological cleanup process known as safe store, or an active decommissioning process that includes disassembling the reactor and building. The plant's owners have up to 60 years to completely clean up the site.
Duane Arnold Energy Center has been one of most efficient and safely operated nuclear plants in the United States, according to NextEra. The plant generated about $255 million in annual spending in Iowa, according to a 2014 study by the Nuclear Energy Institute, and created about 1,100 direct and indirect jobs. It was a large contributor to county property tax revenue, and had been a vital link in the regional power grid during times like the 2008 flood, when other local power plants had to close. CBJ