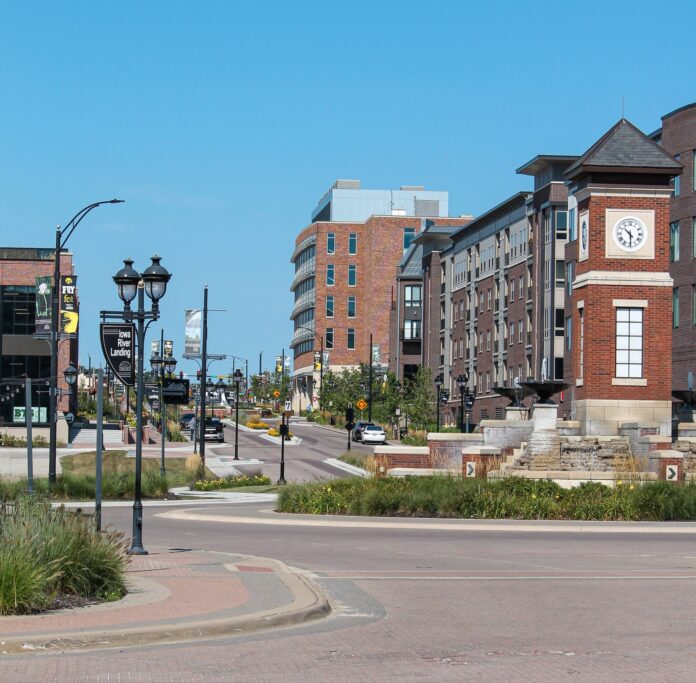 The revitalized neighborhood district located off Interstate 80 in Coralville will house six new businesses in its 180-acre mixed-use development this fall.
Once designated as an industrial park, Iowa River Landing (IRL) is now attracting local and national retailers and restaurants to the neighborhood. The new stores and restaurants joining Iowa River Landing are Anthropologie, R7 Reclaimed, Cookies & Dreams, Cielo, The Silo Team Store and The Iowa Athletic Club. The new storefronts join the area near Xtream Arena, as the facility begins its first full season of events.
"Part of the IRL's charm is the diversity in the neighborhood," said Deanna Printy, IRL property manager. "You can truly live, eat, shop, work, and play in the district, and we're excited to see that continue to grow and thrive."
Iowa River Landing includes more than 330,000 square feet of retail, office, residential and entertainment space.
Anthropologie, one of the new arrivals, will host the grand opening of its second Iowa storefront on Oct. 13.
The Silo, a team store for the Iowa Heartlanders, recently opened its doors inside Xtream Arena, just in time for its first professional hockey game. Meanwhile, the Iowa Athletic Club, set to open later this fall, will offer a hangout spot for arena attendees to eat, drink and watch the game.