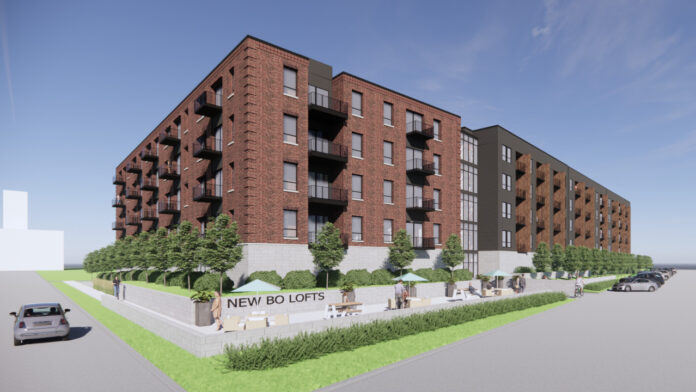 Construction is under way on the NewBo Lofts housing development in southeast Cedar Rapids – a project several years in the making.
Ben Weber, director of business development for the Watts Group of Coralville, the developer of NewBo Lofts, said site work for the 111-unit development, at 455 16th Ave. SE, began in early June, and an official groundbreaking was held June 29 with Watts Group and Cedar Rapids government officials in attendance.
Mr. Weber said Watts Group is eager to bring new housing options to the rapidly growing NewBo neighborhood.
"Cedar Rapids as a whole is experiencing quite a big shortage of housing," Mr. Weber said. "There's room for everybody. I think NewBo will be the mecca of a lot of the new housing that's coming up, and it's going to be a hot area. We're excited to be coming online next summer on the first of the new projects, but we really think more the merrier."
The project will comprise a minimum $20 million investment in two 55-unit multi-family buildings, comprised of approximately 70% one-bedroom market rate units, 30% two-bedroom market-rate units and and ten one-bedroom affordable "entrepreneurial" units.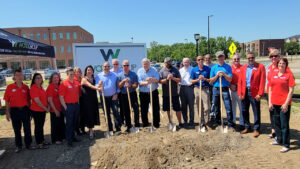 Mr. Weber said as part of an agreement with NewBoCo, the entrepreneurial units will be occupied by participants in NewBoCo's Iowa Startup Accelerator, who typically live in the area temporarily while working with the program.
The development will include a workout facility. Watts Development will also dedicate a portion of the property to the city for a public recreation trail, and the city will extend Fourth Street SE to provide public road access to the site.
Mr. Weber said like other local developers, the Watts Group may have interest in other housing projects in the NewBo area.
"The city has control of a lot of that land down there, so they'll dictate a lot of what happens," he said. "What type of housing, I don't know. I envision more of the housing that goes up after these couple of projects will be more townhome type stuff, rather than apartment complexes, so there'll be opportunity for a lot of (developers), including ourselves. We're excited to be there."
NewBo Lofts Lofts is expected to be ready for occupancy by August 2023, Mr. Weber said.
The project was originally proposed by Hatch Development in 2016 as ArtTech Village II, described in news reports as "a unique project geared toward artists and entrepreneurs," and has gone through multiple iterations since then.
In December 2021, the Cedar Rapids City Council assigned a term sheet for the project from Hatch Development to the Watts Group.