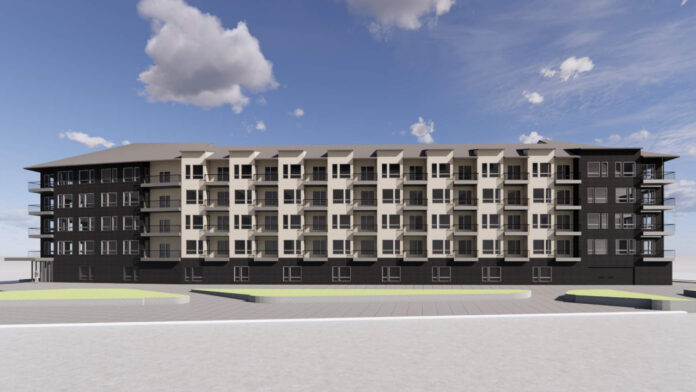 A previously-planned 110-unit housing development near Cedar Rapids' NewBo neighborhood is moving ahead with a different name – and under a new developer.
On its consent agenda Dec. 21, the Cedar Rapids City Council assigned a term sheet for the project at 455 16th Ave. SE from its previous developer, Hatch Development of Des Moines, to the Watts Development Group of Coralville.
The project was originally proposed by Hatch Development in 2016 as ArtTech Village II, described in news reports as "a unique project geared toward artists and entrepreneurs," and has gone through multiple iterations since then.
Ben Weber of the Watts Development Group said the developer will now undertake the project, largely in accordance with the project's original term sheet.
Now dubbed NewBo Lofts, the project will comprise a minimum $20 million investment in two 55-unit multi-family buildings, including 80 one-bedroom market-rate units, 20 two-bedroom market rate units, and ten one-bedroom affordable "entrepreneurial" units.
Mr. Weber said as part of an agreement with NewBoCo, the entrepreneurial units will be occupied by participants in NewBoCo's Iowa Startup Accelerator program.
He also said Watts Development is eager to undertake a large-scale housing project in the NewBo neighborhood.
"We like what's going on in the NewBo district," Mr. Weber said. "This will be a good project that's going to fit the neighborhood well, and we're pretty excited to bring our flavor of architecture and expertise in multifamily developent and property management to the area."
Under the project's existing term sheet, the city will provide a 20-year TIF reimbursement of 100% of the increment generated by the project, estimated to be $2.85 million in net present value. The TIF may be reduced if the project is awarded state Workforce Housing Tax Credits or Brownfield/Grayfield Redevelopment Tax Credits.
Watts Development will also dedicate a portion of the property to the city for a public recreation trail, and the city will extend Fourth Street SE to provide public road access to the site.
Mr. Weber said current plans for the project call for construction to begin in the spring or early summer of 2022, with completion by the summer of 2024.