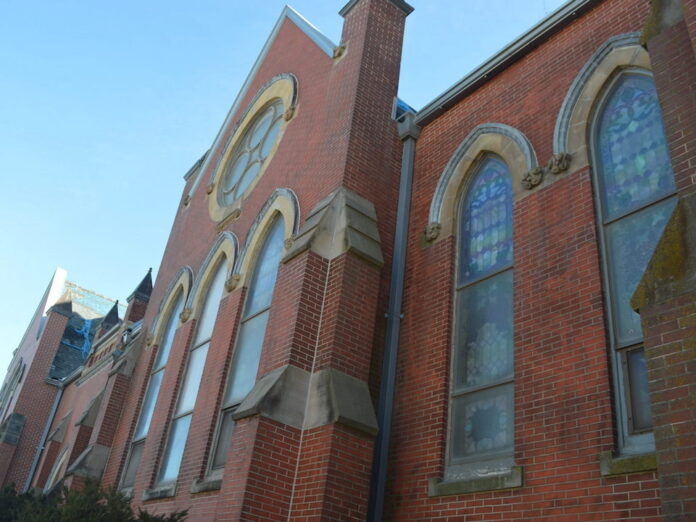 UPDATE: At a special session June 30, the Marion City Council approved an initial financial commitment and Resolution of Support for a Workforce Housing Tax Credit (WHTC) application to be submitted to the Iowa Economic Development Authority (IEDA) for the project at 1277 Eighth Ave.
The proposed project includes 58 market rate apartment units and 40 underground parking spaces on the northeast corner of the block. 
Matthew Mulligan, president and chief operating officer of Conlon Construction, told the CBJ on July 1 that the company plans to build a four-story multifamily housing building with underground parking attached to the church. A brewery/restaurant is planned in the church building itself.   
"We're keeping that circa 1896 structure and that's going to be converted to a brewery and restaurant and we're still out looking for the right partner on that one," Mr. Mulligan said.
Conlon has partnered with High Properties for the multifamily component of the project. 
As Conlon waits to hear about the tax credits from the IEDA, the company plans to proceed with the demolition package to make way for the new residential building, Mr. Mulligan said. 
"Getting that site prepared for the new apartment is going to occur probably between now and the end of the year. And then, come the first of the year, we would love to get started on the apartments themselves and hopefully between now and then we can find a great partner to bring into downtown Marion to be the brewery," he said. 
ORGINAL STORY from April 22, 2022: 
On the brink of demolition, First Methodist Episcopal Church in Marion now poised for revival
By Cindy Hadish
After sustaining damage in Iowa's 2020 hurricane-strength derecho, the historic Methodist Church in Marion was written off by most.
Marion Mayor Nick AbouAssaly was not one of them.
"Everyone was resigned to the fact that it was going to be demolished," Mr. AbouAssaly said. "It was keeping me up at night, but I knew we had to try."
The iconic church has served as a cornerstone in Uptown Marion for generations, he noted, and he wanted future generations to know that "we tried everything."
"It's such an important piece of our skyline and important piece of our historic district," Mr. AbouAssaly said. "History should be driving our economic development. A building like that can drive the trajectory of the uptown. The whole flavor of our town is in those historic buildings. It's the soul of the community."
Though scheduled for demolition in December, he pursued a lead for a developer, and when that didn't come to fruition, he found another.
Mr. AbouAssaly's persistence paid off.
New owners, Conlon Construction, based in Dubuque, took possession of the 42,000-square-foot property this week.
The fourth-generation family business has done a number of historic renovations, including the former Kretschmer Manufacturing in Dubuque, an early-1900s building being converted to 48 apartments, said Matthew Mulligan, president of Conlon Construction.
Citing roof damage, water damage and the church bell that fell to the basement in the storm, Conlon might not have taken on the church project, Mr. Mulligan said, "but (Mr. AbouAssaly) was pretty doggone persistent."
Built in 1895, the First Methodist Episcopal Church in Marion opened in 1896, but the congregation's history dates back even further, to 1840, Mr. AbouAssaly noted, citing Marion's founding just one year before, in 1839.
The church's soaring bell tower can be seen throughout Marion, he said, with the building's footprint at 1277 Eighth Ave. encompassing a half-block of Uptown Marion.
Seeing a window in the church that honored pastors dating back to the 1840s struck a chord with Mr. AbouAssaly.
"It just hit me," he said. "We're not just saving a building here. We're saving part of Marion's entire history, so it's worth the effort."
Mr. Mulligan doesn't have concrete plans for the building, but asked Mr. AbouAssaly to assemble a group of Marion stakeholders to examine options for its use.
He estimated the cost to bring back the older sections of the church at $20 million to $30 million, noting that newer, late 20th century additions did not hold up as well as the historic part and will likely be demolished.
Historic tax credits and other types of incentives will help make it more financially feasible, Mr. Mulligan said, but investors also could play a role in its future.
The company's first plans call for securing the building from further weather deterioration and to install a fence around it, he said.
First United Methodist Church, as it was then known, held its last services in the building before moving to a new site in 2017. The First Pentecostal Church purchased the building, but only used it for about one year before the derecho, after which they moved to a new site.
The Pentecostals twice planned for demolition of the building, but Mr. AbouAssaly convinced them to hold off while he searched for another option.
With Gothic-arched windows and brick exterior, the building is a contributing property to the Marion Downtown Commercial Historic District on the National Register of Historic Places.
It was listed on Preservation Iowa's 2022 "Most Endangered Properties.
"Finally, after Conlon closed on the building, "I slept well last night," Mr. AbouAssaly said.
"I think we can be an example for other communities," he added. "There's always a way if you're relentless. Don't accept what everyone says is inevitable."
See more photos of the church on HomegrownIowan.com