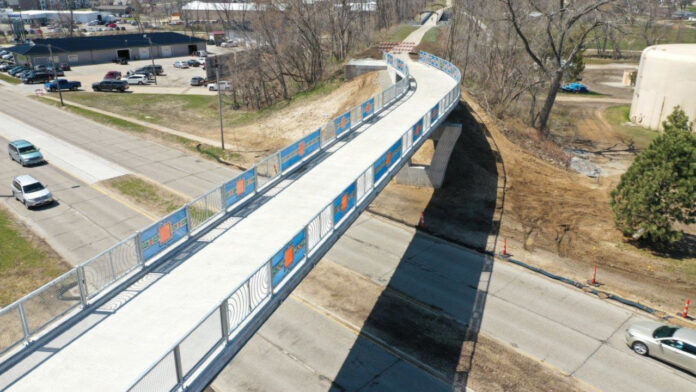 Marion Chamber of Commerce ambassadors and community leaders will come together Friday, July 1, at 8:30 a.m. for a ribbon-cutting ceremony to celebrate the newly-constructed CeMar Trail gateway bridge over Marion Boulevard.
Attendees are encouraged to park at Thomas Park, 343 Marion Blvd., or Zio Johno's, 755 Seventh Ave., since the only access to the bridge is via the trail on foot or by bicycle.
Work began in July 2020 on demolition of the former railroad bridge over Marion Boulevard. Last year, the reconstructed railroad bridge over Indian Creek opened, paying tribute to the once-prominent Milwaukee Road line that ran through Marion.
The new, $1.4 million pedestrian bridge over Marion Boulevard opens on Friday and features a decorative railing designed by local artist Cara Briggs Farmer of Synergy Metalworks. Artistic columns will be added after the Iowa Department of Transportation and Federal Highway Administration accept the project.
The new CeMar Trail gateway bridge provides a vital link for pedestrian traffic between Cedar Rapids and Marion, as well as creating an east/west trail connection by way of the Grant Wood Trail.
Federal funding through the Surface Transportation Program covered 80% of the project cost, with the city of Marion providing a 20% local match.
The city recently submitted a Destination Iowa grant application to the state of Iowa, requesting assistance with the final phase of the CeMar Trail that stretches south from Highway 100 to Mount Calvary Cemetery in Cedar Rapids.
Shoemaker and Haaland provided project design and engineering services in coordination with the artist. Peterson Contractors, Inc. served as the general contractor for the CeMar Trail gateway bridge.
The last passenger train rolled through Marion in 1971, according to a railroad history compiled by the Marion Historic Preservation Commission.