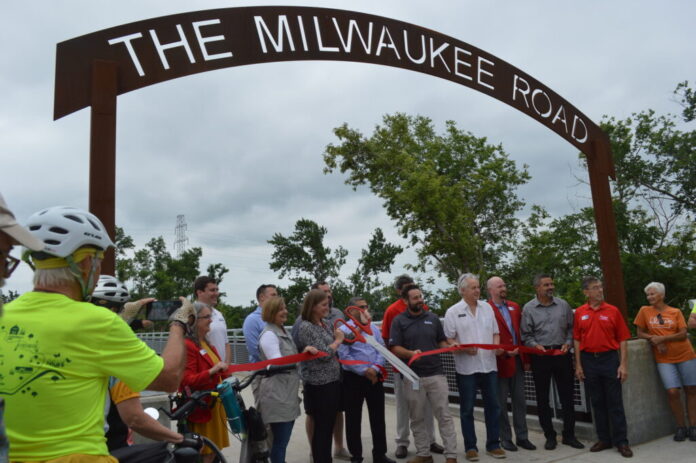 A bridge that once shouldered cattle cars, passenger trains and more is now taking on lighter loads as part of the CeMar Trail through Marion.
Community leaders, Linn County Trails Association members, railroad buffs and others celebrated the reconstruction of the former Milwaukee Railroad bridge over Indian Creek during a ribbon-cutting ceremony on July 12, 2021.
Kurt Rogahn, a member of the Linn County Trails Association and other cycling groups, cheered the opening of the bridge. Mr. Rogahn and other cycling enthusiasts cited unconnected links in the area's trails system, with the bridge providing an important connection that will eventually allow bicyclists to ride a circuit from downtown Cedar Rapids.
Dennis Hagan of Cedar Rapids stopped by to reflect on his family's link to the railroad.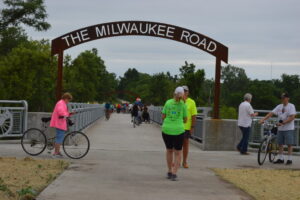 With a farm in rural Atkins, early in the railroad's history, the family would ship cattle to the Chicago stockyards, Mr. Hagan said, dating back to the 1800s.
"That was a big hub," he said. "It was a better market with more buyers there."
The railroad started as an all-wood single-track in 1881, but because of the high amount of train traffic, upgraded to a double track that opened in 1915.
Original metal girders from the 1915 railroad were incorporated into the design of the new trail, said Jay Vavra, consulting engineer on the project with Shoemaker & Haaland.
While trains originally rode on top of the girders, the new concrete trail now sits between those structural elements on new piers, Mr. Vavra said.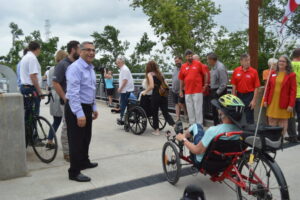 "Everything but the girders is new," said Kesha Billings, associate planner and trails coordinator for the city of Marion.
The $1.8 million project was funded with 80% in federal grants and a 20% local match that included the use of Local Option Sales Tax, she said.
Peterson Contractors, Inc., of Reinbeck, was the construction contractor.
"The Milwaukee Road," as signs over the bridge denote, was the traditional reference to the railroad, Ms. Billings said, and one of the elements of the trail that pays tribute to Marion's railroad history. Signs pointing to Chicago, San Francisco and Portland and wheel designs also add to the railroad motif.
The last passenger train rolled through Marion in 1971, according to a railroad history compiled by the Marion Historic Preservation Commission.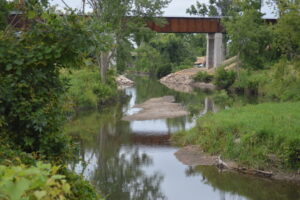 Marion Mayor Nicolas AbouAssaly pointed to the trail's role in the quality of life for Marion and beyond, in making the area attractive to new businesses and residents.
"This is not only an important moment for Marion," AbouAssaly said. "It's an important moment for the region."
The next phase is expected to begin in August, with the construction of the Gateway Bridge over Marion Boulevard.
Once completed, the CeMar Trail will serve as a direct bicycle and pedestrian connection from downtown Cedar Rapids to uptown Marion. The bridge also will serve as a link along the Grant Wood Trail, which creates an east/west trail connection through Marion into surrounding areas. More here.