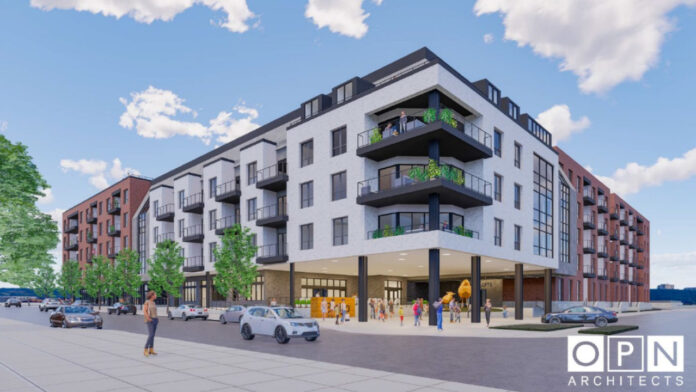 Two major projects wrapped up the Cedar Rapids City Council's discussion Tuesday, June 28 of a host of economic development initiatives in the city.
First, the council approved a term sheet, voted to support an application for workforce housing tax credits and authorized negotiation of a development agreement for the redevelopment of the former Loftus Lumber property at 903 Third St. SE, in the NewBo neighborhood near the Cherry building.
The project, with a minimum investment of $36 million, will build a five-story, mixed-use building with a total of 186 market-rate residential units, including a mix of studio, one-, two- and three-bedroom units.
The empty property had previously been slated for redevelopment, but plans fell through after a dispute between the O'Donnell family, which currently owns the land, and a previous Illinois-based developer.
Plans for the project, now proposed by a group known as DOMOV LLC, a Czech term for "home," under GLD Commercial and developer Dave Drown, also include a 11,000-square-foot retail and commercial area, surface and covered parking, a first-floor raised patio and greenspace, a rooftop patio and amenity area, and other tenant amenities scattered throughout the building, city economic development manager Caleb Mason told the council.
If the project receives the tax credits from the state and the council subsequently approves the development agreement, plans call for construction to begin in the spring of 2023, with completion slated for October 2024.
Another significant project involves redevelopment of the former Midwest Athletic Club (MAC) at 1220 Jacolyn Dr. SW, which was heavily damaged in the August 2020 derecho and subsequently demolished.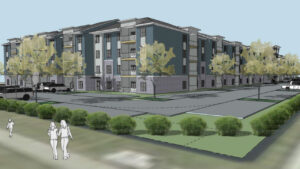 The $41.2 million project, proposed by developer KCG Companies LLC of Indianapolis, Indiana, would comprise construction of a 180-unit affordable housing complex, including 36 one-bedroom units, 95 two-bedroom units and 50 three-bedroom units. All units would be reserved for households with incomes at or below 60% of the area's median income, city officials said.
Amenities of the project would include a swimming pool, dog park and fitness center.
Developers are seeking funding through the Iowa Finance Authority's Low-Income Housing Tax Credit Program, as well as standard city incentives through the Local Match Economic Development program, which provide a 10-year, 100% exemption of the value generated by the development.
The council voted unanimously to support both projects.
In comments at the end of the meeting, city administrator Jeff Pomeranz noted that the council had considered more than $100 million in housing and commercial development projects during the meeting.
"Whether it's in an area where buildings were destroyed by the derecho, or in the case of what's currently known as Loftus Lumber, soon to be a new name – a project that was worked on by the city for over 20 years – it's some very exciting residential opportunity," Mr. Pomeranz said. "This was a unique agenda with so much accomplishment, really reflecting the work of so many individuals all coming together for the progress of the city."
Among the numerous Cedar Rapids economic development projects considered by the council Tuesday:
Approval of the first readings of two flood control projects on the west side of the Cedar River following public hearings, totaling 7.5 miles in length – a $9.9 million flood control system from E Avenue to Second Street SW, which will incorporate flood protection for the new First and First West construction project and future recreational areas around the Cedar River dam, and a separate $3 million project elevating O Avenue NW over the flood control levee and under the Northwest Memorial Archway to First Street NW;
Approval of a development agreement for a $10.25 million redevelopment of the historic Palmer Building, also known as the former Skogman Realty building, at 411 First Ave. SE, which will incorporate a total of 43 workforce housing apartment buildings, as proposed by developer BCRN Owner, LLC;
Approval of a development agreement for a $13 million project to build Rose Cottage Villas, a 76-unit workforce housing complex along Prairie View Lane SW, including 16 duplexes, 28 four-plexes and 32 8-plexes, as proposed by local developer Darryl High;
Support of a Workforce Housing Tax Credit application for a $6.5 million project to build 25 new housing units and remodel two other units along M Avenue SW between 10th and 12th Streets, as proposed by developer D Taggert Holdings;
Support of a Workforce Housing Tax Credit application for a $7 million project to build 36 housing units within a mixed-use development at the intersection of Wright Brothers and Kirkwood Boulevards SW, as proposed by Big Ben LLC and developer Joe Ahmann;
Support of a Workforce Housing Tax Credit application for a $1.74 million project to build four two-story town homes at 1003 and 1007 Sixth Street SE, as proposed by developer Jason Rogers;
Support of a Workforce Housing Tax Credit application for an $830,000 project to build five row homes at 415 and 421 C Ave. NW, as proposed by developers Tyler Oswood, Alex Frazier and Josh Bass;
A resolution authorizing brownfield/grayfield redevelopment program incentives for construction of a $1.4 million, 8,400-square-foot commercial building at 2519 16th Ave. SW, as proposed by Dawson Knox Industries, to be partially leased by adjacent company Core & Main, a water works equipment supplier; and
First consideration of a rezoning request for a 34,488-square-foot parcel at 2000 Rockford Road SW for construction of a new housing duplex, with the possibility of adding a three-plex to the same property in the future.