A new report finds that Iowa's green jobs economy is strong and poised for huge growth over the next five years.
According to nonprofit media organization WorkingNation and data compiled from Emsi Burning Glass, the report forecasts employment demand for green jobs in Iowa will increase over the next five years by 18.8%, far above the national average of 5.7%. This is in addition to 13,000 green workers that already call Iowa home.
"Iowa's clean energy industry continues to expand across the state," Beth Townsend, director of Iowa Workforce Development, told WorkingNation in an interview. "We are ranked first in the country in terms of the amount of our electricity that is produced by clean power. Almost 58% of our electricity is from clean power, primarily wind turbine."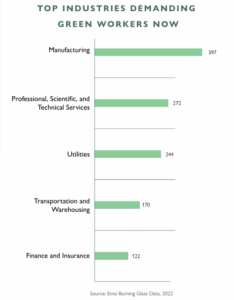 A single wind energy project can create up to 200 construction jobs and then 10 permanent jobs, said Mak Heddens, a senior advisor for renewably energy coalition Power Up Iowa. "Think about companies like Amazon, Facebook, Microsoft, Apple – all of those companies have been investing and locating in Iowa due in part to the state's clean energy leadership."
"Green Jobs Now: Iowa" identifies the state's most in-demand green skills – "renewable energy," "energy conservation," and "energy efficiency," according to the data – and occupations where green skills matter. It suggests certain workers could get annual salary boosts of perhaps $2,000 or more by applying green skills, with boosts upwards of $8,000 for some positions.'
"If there's going to be a big transition to a green economy, it's better to be at the table than to be on the menu," said Iowa Federation of Labor President Charlie Wishman to WorkingNation.
He says reskilling and redeployment of workers is something businesses will want to keep in mind moving forward.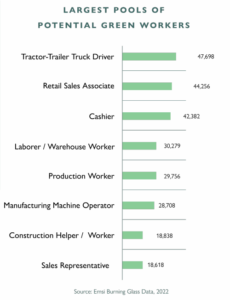 In Iowa, Emsi Burning Glass estimates almost 600,000 workers, if given access to training, could be reskilled into green jobs, according to the release. They estimate there were approximately 2,871 green job openings in the state in 2021.
While the report finds demand across Iowa for green workers, the greatest concentration is split between the Des Moines-West Des Moines metro area and Ames.
WorkingNation is a nonprofit media and journalism organization founded by venture capitalist Art Bilger.