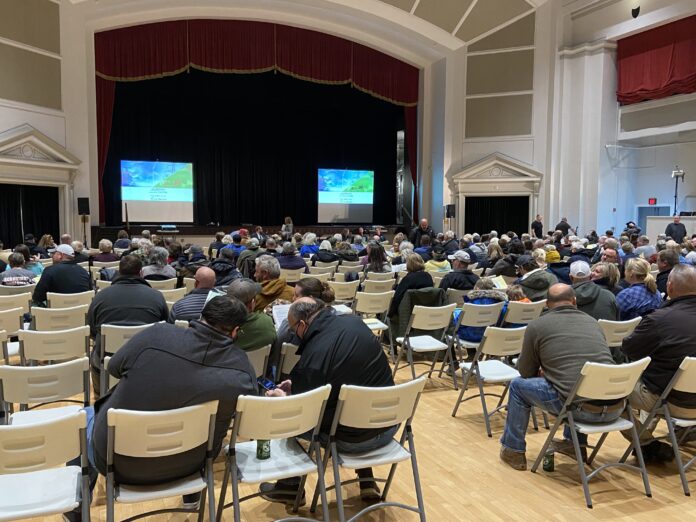 Navigator CO2 Ventures signed letters of intent on Friday to use union labor for construction of the Heartland Greenway project, a proposed carbon dioxide pipeline.
If the project is approved, workers from the International Union of Operating Engineers, United Association of Union Plumbers and Pipefitters (UA), Laborers' International Union of North America (LIUNA) and the International Brotherhood of Teamsters will contribute to the pipeline's construction.
"Since the inception of this project, Navigator has been laser focused on the economic value and local employment it will generate both for the states within our footprint and the region at large," said Matt Vining, Navigator CEO. "The letter of intent marks a significant benchmark in the progress of this project. We are excited to continue advancing the unique value proposition of Heartland Greenway, which will be an instrumental part of successfully decarbonizing agriculture in the Midwest."
The Texas-based company has drawn heavy scrutiny over recent months for a lack of transparency, concerns over public safety and potential effects on land value, and overall skepticism behind the company's intentions.
Continued focus on the Heartland Greenway project led House Republicans to announce on Wednesday a year-long moratorium that prevents companies planning to build carbon pipelines from seeking eminent domain, reports Radio Iowa.
A proposal in the Iowa Senate, that would have prohibited eminent domain on farmland in the case of carbon pipeline projects failed in February, the Iowa Capital Dispatch reported, despite support from farmers and conservationists.
It is just one of the three carbon dioxide pipelines that out-of-state infrastructure companies are seeking approval from the Iowa Board of Utilities.
Elizabeth Burns-Thompson, the Navigator vice president of public and governor affairs, said during a December meeting in front of Linn County residents that the pipeline will be operational "decades upon decades" and would create 8,000 contract positions and an estimated 80 permanent jobs.
Navigator argues the pipeline, that could stretch 1,300 miles and through Benton, Linn and Iowa counties, is both safe and environmentally conscious. The pipeline would capture carbon dioxide emissions at 20 different receipt points from ethanol and fertilizer plants before it reaches the atmosphere, and is capable of storing up to 15 million tons of carbon dioxide per year once fully expanded.
"An all-of-the-above approach to energy is critical to achieving our shared climate and energy production," said Mark McManus, general president of United Association. "Carbon capture and sequestration technologies are an essential part of driving down costs and decarbonizing essential industries, like agriculture and energy. Built by the men and women of the United Association … the Heartland Greenway project will play a critical role in lowering costs, reducing our carbon footprint, and creating the types of family sustaining jobs our nation needs."
The Linn County Board of Supervisors submitted its formal opposition to using eminent domain for the Navigator project in January.
How carbon sequestration — the process of capturing and storing atmospheric carbon dioxide — can be best utilized in Iowa was discussed by the Iowa Carbon Sequestration Task Force formed by Gov. Kim Reynolds last November.