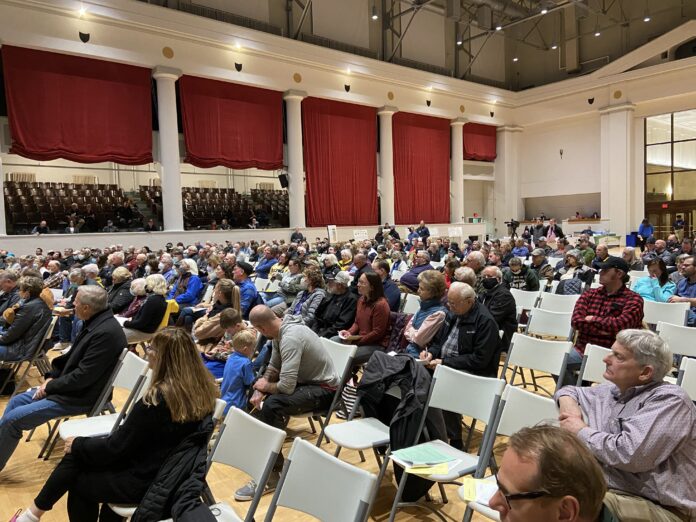 In a letter to the Iowa Utilities Board Monday, the Linn County Board of Supervisors has submitted its formal opposition to using eminent domain to obtain right-of-way easements for a pair of proposed liquid carbon dioxide pipeline projects.
The projects are being proposed by Navigator Heartland Greenway and Summit Carbon Solutions.
The $3 billion Navigator project, a 1,300-mile path traversing several counties in Iowa, including Benton, Linn and Iowa counties, would collect carbon dioxide emissions from fertilizer and ethanol plants to be transported, in liquefied form, to underground storage facilities in Illinois.
The Navigator project has faced significant scrutiny, and opposition, in a series of public meetings. Attendees at a Linn County informational meeting on the Navigator project Dec. 6 said they were concerned about a lack of detailed information about the project, as well as possible environmental concerns if the pipeline were to be breached.
Navigator officials maintain the project would be safe, pointing to more than 5,000 miles of operational CO2 pipelines already in place nationwide.
Summit Carbon Solutions is proposing a separate carbon capture and storage project located in Iowa, Minnesota, North Dakota, South Dakota and Nebraska. The project, Midwest Carbon Express, will capture carbon dioxide emissions that otherwise would be emitted into the atmosphere from biorefineries such as ethanol plants, compress the captured emissions, and transport it through a pipeline to North Dakota, where it will be permanently stored underground. The proposed project would traverse a number of Iowa counties, mostly in northern and western Iowa.
Here's the full text of the letter from county supervisors to the IUB:
"Dear Board Members:
Re: Docket No. HLP-2021-0001, Summit Carbon Solutions, LLC
Docket No. HLP-2021-0003, Navigator Heartland Greenway, LLC 
The Linn County Board of Supervisors submits this letter in opposition to the use of eminent domain by both the Summit Carbon Solutions, LLC and Navigator Heartland Greenway CO2 pipeline projects. 
While we understand that the careful use of eminent domain may be appropriate in certain cases for a public use, public purpose, or public improvement, we also believe that the unrestricted and inappropriate use of eminent domain threatens and undermines private property rights. 
The use of the government's authority to take private property for a public use – to force property owners to surrender their property rights involuntarily – should be limited to projects that serve the entire public. The Summit and Navigator projects both claim that carbon capture and storage serves the entire public by promoting efforts to achieve climate goals. However, unlike regulated utilities, the pipelines are not granted a franchise to provide service that benefits the entire public in a service area. Conversely, the pipeline project will exclusively benefit private companies by enabling them to sell fuel at a premium without investing their own money, and without providing a public service. 
We are also concerned that the loss of economic value on residential, commercial, industrial, and agricultural land used by the pipelines will be long-term, not just temporary. For example, we are worried about the proper restoration of agricultural land following pipeline construction, interference with proper drainage, the effects of pipeline construction on long-term soil health, and possible other negative environmental impacts. 
One of our most important responsibilities as public officials is to promote the general welfare and protect the rights of others. We believe we have a duty to help protect private property rights, and respectfully request that you deny the use of eminent domain for the Summit Carbon Solutions, LLC and Navigator Heartland Greenway CO2 pipeline projects. We sincerely appreciate your attention and consideration.
Sincerely,
Ben Rogers
Stacey Walker
Louie Zumbach"