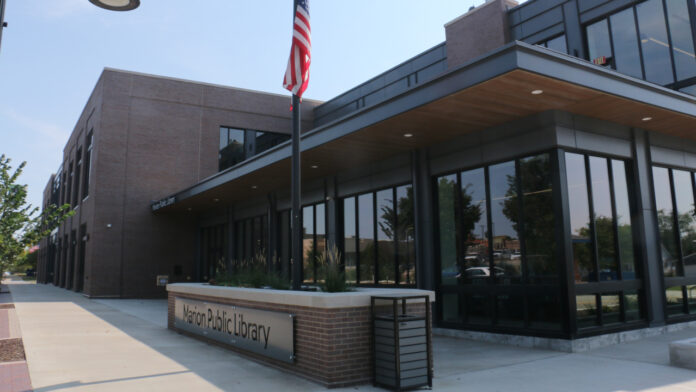 The new Marion Public Library is now set for a "soft opening" on Thursday, Nov. 10, capping an oft-delayed construction schedule that has impeded previous opening-date targets several times.
The board of trustees voted Monday night, Oct. 10 to approve the Marion library's opening date based on a recommendation from library director Bill Carroll, after most recently planning a soft opening date "on or before Nov. 15."
Even when recommending the opening date, Mr. Carroll included a sliver of caution in his optimism.
"I can't tell you with 100% certainty that we're going to be able to stick to that November 10 (date)," Mr. Carroll said. "But I can tell you based upon what we've seen and the plans that we've put in place for training, it's an extremely high probability that that's the day we're going to open."
After breaking ground in October 2020, construction of the new $18 million Marion Public Library facility at 1101 Sixth Ave., just east of the former library, has been impacted by the availability of materials, delivery delays and labor shortages. The library was originally projected to open in April 2022, then was postponed to July, postponed again to an unspecified date "after Labor Day" and postponed a third time to mid-November prior to Monday night's decision.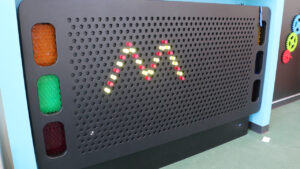 Preparation progress is being made in several key areas, Mr. Carroll said. Permanent sink shrouds will likely be sourced from a local manufacturer, he told the board, and installation of the building's security and access system is progressing well. Staff training is still needed in several key areas, he said, but plans are in place to complete that training over the next few weeks.
"There's going to be moments that it's not pretty," Mr. Carroll said. "We're doing the best we can to prepare staff for all those contingencies, but based upon my interactions with the community … everyone who comes into the building is highly anticipating in a positive way the day that the Marion Public Library opens its doors. So even with our rough patches, I think we're going to be in really good shape when we open that door."
Mr. Carroll also recommended canceling a staff development day scheduled for Nov. 11, so staff can be available for the library's second day of operation, leading into what Mr. Carroll projected as a "crazy" first weekend. Hours for the soft opening will follow the library's standard schedule of 9 a.m. to 8 p.m.
Materials at the Marion Public Library's temporary Uptown location, at 1064 Seventh Ave., are also set to be moved to the new facility in upcoming weeks. Browsing of the Uptown collection was suspended Oct. 10, but patrons will still be able to pick up reserved materials and use the facility's computers until the new facility opens.
The board also voted Oct. 10 to approve the framework for a new policy governing use of the new facility's meeting rooms, addressing issues such as equipment use and reservation procedures. The policy is set to be reviewed and refined by library staff and trustees in upcoming months.