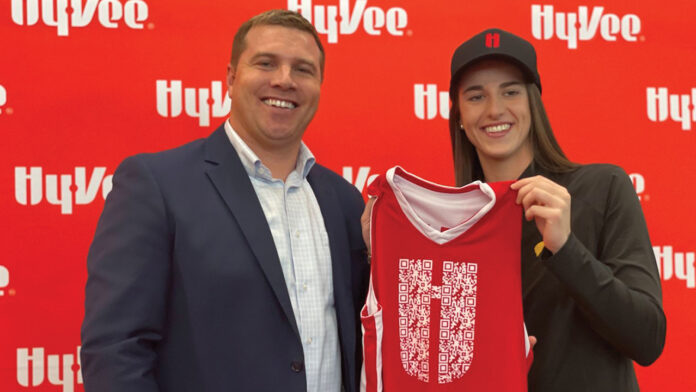 Caitlin Clark is a decorated point guard for the University of Iowa women's basketball team who has also been named a McDonald's All-American and was ranked fourth in her high school class by ESPN. Caitlin sets down the basketball to talk business with me, and we discuss how the opportunity for college athletes to monetize their own Name, Image, and Likeness, or NIL as we'll refer to it in this episode, has changed her life. 
Caitlin also shares how her family and her team have supported her in her personal business and brand management, what she is learning about financial responsibility through these experiences and how she manages her social media presence with over 151,000 followers on Instagram. Caitlin shares her opinions on what NIL means to college athletes and how she wants her personal brand to be perceived in the future.
I learned a lot, and I think you will too.
Listen to the podcast:
Read the transcript:
NK: Let's start at the point when you learned that college athletes could profit off of their Name, Image, and Likeness. How did your life change at that point?
CC: When I was getting recruited here, that was never a discussion. Nobody talked about it, and nobody really knew it was coming. My freshman year, Jordan Bohannon was pretty active in his role that student athletes should have this right to their name, image and likeness, which I agreed with. So I think, more than anything, I was just trying to educate myself. That's obviously still part of the process here today. There's just so many different things going on and so many different rules. 
I'm really lucky to have a really great family. One of the reasons I came here is because I wanted to be close to them and they educated themselves, too. It has been kind of crazy ever since July hit. But I think it's a really great thing. I've seen so many great things come of it. I think Iowa student athletes especially have done a tremendous job giving back to their community and giving to charities. You don't see that everywhere. I think most athletes here are using it in the right way.
Tell me more about that education process. Were you always business-minded?
Both of my parents are in the business world. I'm in the business school as well, so I've kind of learned a lot through that, which has been interesting. I've kind of got two things going on at once. I was on a couple Zoom calls with Jordan and a couple other players from different universities. One Zoom was actually with Mark Emert, so that was kind of cool. We  also discussed the inequities at the NCAA tournament which was a whole different issue. But just listening to other people and hearing what they had to say. I think that's the biggest thing.
I think marketing is what I'm most interested in, and it kind of goes with what I've been doing in life, obviously. That's what I'm getting my degree in here at the University of Iowa. I'm a marketing major. I just declared.
Were things pretty crazy for you when the NIL policy hit?
Yeah, it was crazy. The number one thing we did was set up a business email. I think my approach has kind of been, "I can't do everything." That's just how it is. I want to align with bigger companies that have the same values that I do, and I think you have seen that over the past year and a half of what I've been doing. But obviously it was kind of chaos. I think companies were trying to figure it out. A lot of companies were just sending kids free stuff and hoping they post it. So, it was an interesting dynamic there for a while. I think that has kind of calmed down a little bit. Everybody's starting to figure it out a little more.
How many inquiries did you get? Dozens? Hundreds?
I would say probably around hundreds. I don't really have access to the email or look at it, so I don't know for sure. I know a lot of stuff comes in. But yeah, it was pretty chaotic and it still is. There is a lot still. But I think it's cool to see that there are so many different opportunities out there for student athletes and you can really find what you're passionate about and do that.
What is the process like for you to work with your family and sort through those inquiries?
I would say it's a lot different when I'm in season than when I'm out of season. Obviously, I don't have a ton of time when I'm in season. But I think it's been a learning process even for us over the past year of finding out what's the best process for them to talk to me and figure out things. My uncle Mike, who's done a lot of stuff for me, has a good background in communications and working with different businesses. He's been a huge help there. He talks to a lot of different people when they send emails. He'll have an initial phone call with them and figure them out and see what they want, and see if it would be a good thing for me to partner with.
From there, he'll probably tell me and we can move forward from there. I don't really want it to consume my life. I think the important stuff they'll come to me and tell me about right away. Otherwise, my mom will send it all in an email and have a bunch of stuff written out for me. I really like stuff in written form so I can read it and dissect it and go over it. I think we've kind of found a process that really works for all of us that are involved, which has been important.
How did you go about figuring out how to price or value your services?
Obviously nobody really knew and we didn't know. Nobody's done this before soI think you kind of go with what you think you're worth. There were some things that we read where you kind of got an idea, but at the same time, why would one person know what you're worth and somebody else be able to say something else.
I think it just depends on what you're doing and what platforms you're using. Instagram and Twitter are different whether you're posting on your feed or whether you're posting a story. If you're posting on Facebook, there's just so many different aspects of it. You kind of learn how to market yourself and put out things that are going to get good engagement on social media. The companies I work with kind of know that too. They have a whole department for that. I think it's just really, really interesting how different things can be marketed in a different way and the engagement will just shoot up.
You're verified on Instagram and have over 151,000 followers. Do you mainly do social media or are you focused on other opportunities?
The balance is super important and Iowa's marketing department has been good to talk to about different marketing things. I've gotten some pointers on how to do social media, how to create more engagement when you post ads, when you should post just content about your life because you want to have people see both sides of you. You know, making sure your Instagram isn't just a ton of ads or whatever. I take care of all of my social media on my own. A lot of people sometimes have other people that work for them and do it for them. I think there may be a time in my life where that comes, but for now, I can manage it to the point I need to. I'm not on there a ton. I'm not posting every single week.
What would you define as the main pillars of your social media strategy?
I think what people are attracted to with me is my personality, and the passion and energy that I bring. But I think that's the same thing on the court. Like, with some of the Hy-Vee stuff I've done, it's really fun and outgoing. It gets people to laugh, but at the same time, they're getting to know me and know who I am. Your followers have to know who you are, know what you're passionate about, and know what you like so then they can relate more to you. If your ads are really centered around who you are as a person, that's what really will hit home with your followers.
How would you define the Caitlin Clark brand?
Obviously passion, but I also think it's about giving back to my community. I'm a hometown person. That's why I came here. I love this state. I live two hours away from here. I've done a lot of stuff to give back in this area. Even if I never go to the Final Four, I want to be able to say that I inspire little boys and little girls because, at the end of the day, that's way more important than banners and trophies that I can collect. Inspiring others, giving back to my community, and being able to put joy in people's lives are just some of the biggest things for me.
What was the first deal that you agreed to?
My first deal was Hy-Vee, which was really, really cool. It's an Iowa company. Their headquarters are right in Des Moines just a few minutes from my house. They're huge in sports marketing. They've got Patrick Mahomes, Travis Kelce, Kirk Cousins, etc. I actually had done something for them the year prior, but I just did it because it was something related to their Kids Fit program, which is all about getting kids active in the community. They wanted me to record a video for it, and obviously I wasn't compensated at the time because I couldn't be. But it was a program that I was involved in when I was a kid, so it was an easy thing for me to want to do. The kids loved it, so I think that kind of caught their eye. 
I went and met with them a couple of times and then ended up signing a deal with them that will last until my career here [at the University of Iowa] is over. They totally understand sports and the demand of it. But their marketing is tremendous and they're all throughout the Midwest. I'm really lucky to have partnered with them and they've been tremendous over the past year.
Do you have some Do's and Don't's that you can share with businesses out there that may be interested in partnering with college athletes?
Number one: There's room for everybody in this. Whether you're a small business or a big business, or you're an athlete with a huge brand or smaller brand. There's room to get involved any way you want. I think that's the biggest thing. If a business wants to seek out a certain athlete, you can email them or direct message them on social media. There are easy ways to find athletes to represent your brand or endorse your company. I think college athletics is one of the greatest things in the world, so I think not only can they endorse your brand, but at the same time, you can help them give back to the community in certain ways too.
Are there any lessons learned from the past year of exploring this NIL policy? Any mistakes?
I don't think there's ever been a mistake. It has been a lot of learning. Something I would always say is to ask a lot of questions. I think that goes for a lot of things in life. If you don't know, it's ok to ask. I have a lot of people working around me, so if it was probably me doing it on my own, I'd probably have quite a few mistakes. So, I'm very grateful for them. Contracts are no joke, which is kind of a crazy thing to think about when you're only 20 years old and you're having to sign a contract. I have people around me that help review that and look it over. 
You're in college, but you have to live your life as a professional, which can be hard for a lot of people. But if you want to be treated that way, that's just what you have to do. And you have to have a tight circle and have people in that circle that you know have your best interests in mind, and want to see you succeed. Something that my mom has always preached even since I was in high school is that there are people out there that want to see you fall, so you have to have the right people around you every single day. It's okay to do your own thing. You don't have to do what everybody else does. That has kind of been my story. I could have gone to a huge school that goes to the final four every year, but I wanted to do something different and write my own story. So, that's what I live by.
What do you want people to say about Caitlin Clark and how she managed her brand? 
Brand-wise, I want to be somebody that did things the right way. I don't want to be somebody that was just taking any deal I could because I wanted a check or something like that. I think that's what I've lived by. I've only aligned with companies that I truly am passionate about and that have those same values that I do. Usually they're bigger brands because they can commit to you for a longer contract, which is good as well. They're really committing to who you are as a person.
I want my brand to energize people and give them joy. I hope I can inspire the community. I really just want to keep growing my brand even after basketball's done. There are so many different things I can do that are still involved in sports, but maybe I'm not playing and my brand could really still impact people. I think I'll continue to learn over the next few years. I think the sky's really the limit for me on my brand and what it can do. I want my brand to be more centered around the person I am rather than the player I am.