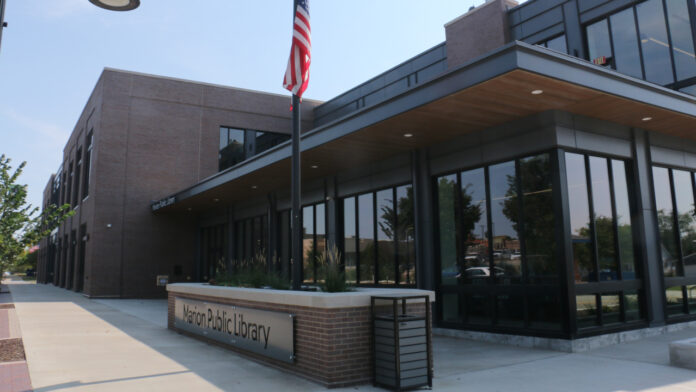 After numerous construction delays, the new Marion Public Library is now set to open to the public on or before Nov. 15.
The Library Board of Trustees set the opening date after a special meeting Sept. 22 to discuss plans for opening the new public library facility, in the 1100 block of Sixth Avenue.
Construction of the $18 million library facility has been impacted by the availability of materials, delivery delays, and labor shortages. The library was originally projected to open in April 2022, then was postponed to July, and most recently postponed to an unspecified date "after Labor Day" before this week's announcement.
In a joint meeting of the Library Board of Trustees and Marion City Council on Sept. 12, four critical items were identified as standing in the way of the Marion Public Library opening, including the installation of sink shrouds, interior and exterior railings, and access and security hardware and software.
Library director Bill Carroll said installation of "temporary, alternative measures" has been completed in lieu of permanent sink shrouds. Additionally, interior handrails have been modified to meet code requirements, and exterior handrails have been installed on the southwest side of the building.
The fourth item, installation and programming of library access and security technology and training for staff, is in progress, Mr. Carroll said, and is expected to take several weeks to complete.
Based on the progress on those key items, the board voted to set a soft opening on or before Nov. 15 and schedule an official grand opening event at a later date, allowing time for the arrival and installation of hardware and software, training for staff, and the relocation of the collection currently in use at the Uptown Branch location, 1064 Seventh Ave.
"The community has been without a full-service library since the August 2020 derecho," Mr. Carroll said in a news release. "I applaud our team for their innovative approach to providing services and our patrons for their continued patience and understanding.
"Even with some aspects of the project yet to be completed, we are more equipped to serve the public in the new facility than we can from our temporary branch location," he added. "We look forward to opening our doors to the community before Nov. 15."
The two-story, 52,000-square-foot facility is about double the size of the former library facility just to the west, which sustained extensive damage in the August 2020 derecho and never reopened. Plans for that former library building remain uncertain, Mr. Carroll said.
The Marion Public Library was established in 1905 with a grant from the Andrew Carnegie Foundation.