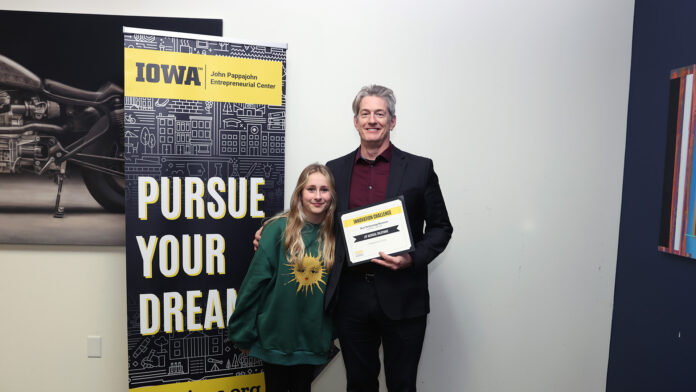 LSF Medical Solutions won first place and $20,000 for Best Technology in the incubator startup division at the Innovation Challenge Awards at MERGE in Iowa City.
Their electronic device, called Pneumero, is a cloud-based app that measures airway in the lungs at home, according to a press release.
Aptafi, a contrast agent that temporarily attaches to the interior of arteries and can be seen throughout the duration of a procedure after only one injection, placed second and won $13,000. Third place went to AugmENT, a company that assists universities with student recruitment and school promotion.
Across two divisions, 17 teams combined to win $74,500 from the University of Iowa John Pappajohn Entrepreneurial Center (Iowa JPEC). There were 70 applicants with pitches being held Nov. 14 (for graduate students/faculty/staff/incubator startups) and Nov. 15 (for undergraduates).
Two undergraduate teams took home first place and both won $5,000. Expeeriant, providing live-in advertising to guests in vacation rental homes, won Best Non-Technology. Version 5.0, a device to measure the femur's rotational correction in a reliable way, won first place for Best Technology, the release said.
LSF Medical Solutions was one of two Iowa City-based startups named a finalist for the 2022 Prometheus Awards in the Startup Technology Company of the Year category, but fellow Iowa City-based startup S5G Therapeutics Inc. was named the winner.