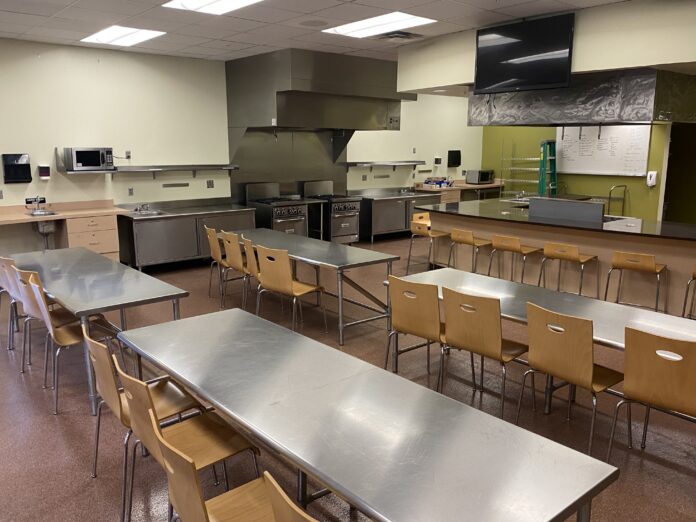 Kirkwood Community College will relocate Kirkwood Culinary Kitchen operations and classes following the end of its lease with the NewBo City Market in Cedar Rapids. In addition to moving classes to The Hotel at Kirkwood Center, the college will donate nearly $46,000 worth of kitchen equipment to the Market for future use.
Following the flood of 2008, community leaders recognized an opportunity to transform the city by creating a flagship attraction in the NewBo area. Kirkwood collaborated with market leadership to serve as an anchor tenant, providing guaranteed income and programming to encourage further growth in the space. 
College officials saw an opportunity to not only support the venture financially, but also offer the public a fun and unique service in the form of cooking classes at the new facility. At the time, Kirkwood had been holding its cooking classes at local schools, and the partnership allowed the institution to expand its culinary options, while achieving its goal assisting the revitalization of a now popular district in a once devastated area of the city's core.
According to Kirkwood Vice President of Continuing Education and Training Services Jasmine Almoayyed, that mission has been accomplished.
"Kirkwood truly sees itself as the community's college, and this is one way our institution's leaders believed we could help move the community forward in its revitalization efforts," she said. "Now that the NewBo area has become one of the most popular districts in Cedar Rapids, we've done what we set out to do. The Market is in a position to do some really exciting things, and we couldn't be prouder to have partnered with them over the last 10 years. At the same time, with our cooking classes back on campus, and new options for culinary courses in the newly renovated Iowa Hall, we have the benefit of teaching our students in a AAA Four-Diamond-rated hotel, while also helping to create more traffic in what we hope will be a bustling student center. It's really a win-win situation for everyone."
After the end of the lease, Kirkwood will donate the kitchen equipment formerly used by the college in the building. To NewBo City Market Executive Director Julie Parisi, the sky's the limit for what her team can do with the space and equipment.
"Since the inception of NewBo City Market, Kirkwood has been an integral partnership. Tremendous growth has happened both in the District and within NewBo City Market's organization," said Parisi. "The space formerly used by the college will continue on as an event space where a variety of educational culinary and art classes will be hosted. We are excited to continue with events such as our popular, family-friendly STEAM Saturday events. But we are equally as excited for new opportunities the space will afford in support of NewBo City Market Shopkeepers."
The lease agreement ends April 30.